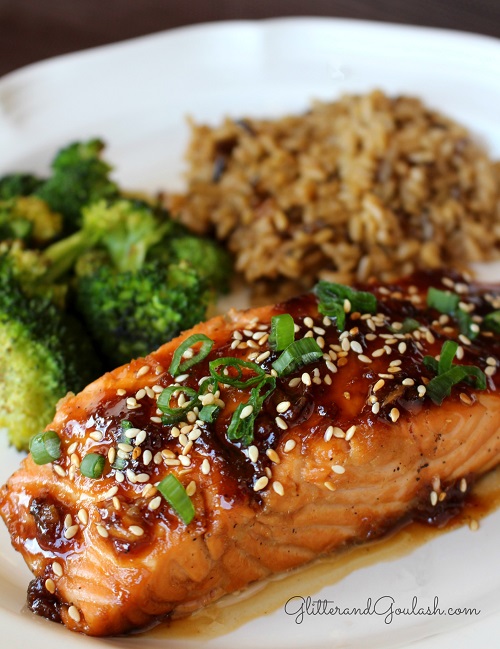 This Bourbon Glazed Salmon is a quick, easy, and nutritious meal to serve your family any night of the week.  Even if you have very little experience in the kitchen, this is a gourmet meal you can pull off to impress.
Now if you have kids like I do, I can hear you saying, "my kids won't eat this".  Trust me when I say, make it anyway!
I was skeptical to put this dish in front of my kiddos, but in an effort to incorporate some healthier meals into our menu, I gave it a try anyway.  My kids (and husband) LOVED it! The mild sweetness from the brown sugar and tanginess from the ginger and lime juice go perfectly with the richness of the salmon.
I promise that this Bourbon Glazed Salmon recipe will become a new family favorite in your dinner rotation.
The ingredients needed for the Bourbon Salmon are: brown sugar, bourbon (apple juice can be used as a substitute), low-sodium soy sauce, fresh ginger, fresh lime juice, garlic, black pepper, salmon fillets, green onions and toasted sesame seeds.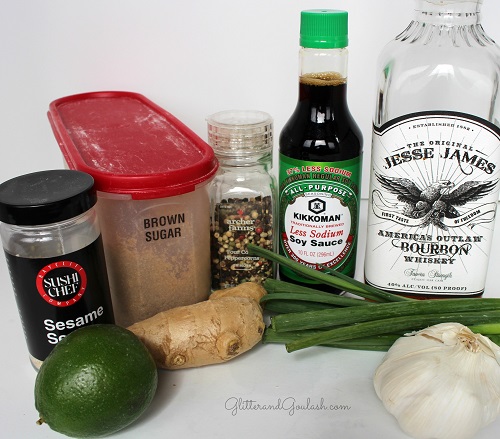 First, put the brown sugar, bourbon (or apple juice), soy sauce, ginger, lime juice, garlic and black pepper in a bowl.  Stir well to combine.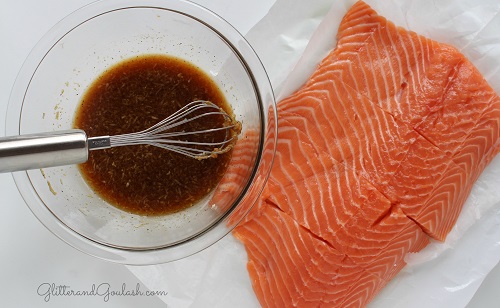 Next, place your salmon fillets in a Ziploc baggie and add your marinade.  Try to squeeze out any extra air in the bag, this will ensure that the marinade gets into every nook and cranny of those beautiful fillets.
Let your salmon fillets marinate in the refrigerator for 1 1/2 hours, turning occasionally.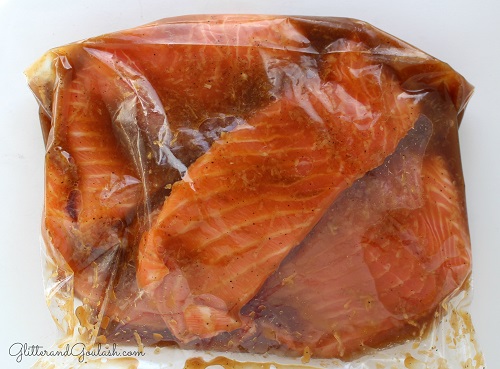 While you are waiting for the salmon to soak up all those delicious flavors, you can prepare the sesame seeds that you will use for a garnish once the salmon has cooked.
For convenience, you can buy sesame seeds that are already toasted. I prefer to buy the regular sesame seeds though, and toast them at home.  It is super easy and quick to do and I think the flavor of the seeds is much more intense and fresh.
Simply add the untoasted sesame seeds to a pan and heat for 3-5 minutes over a med-high heat. Make sure that you give them a good stir every 30-45 seconds to prevent them from burning.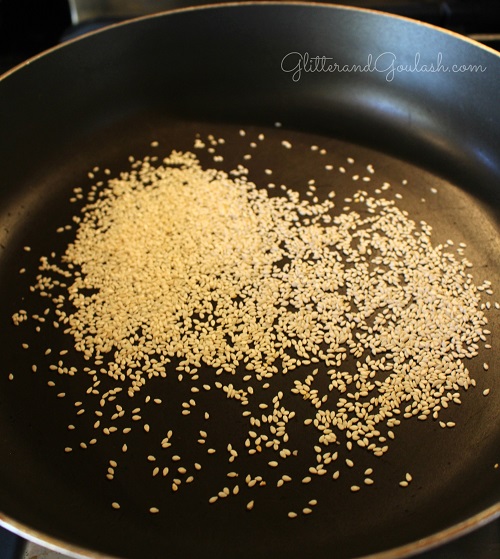 You will quickly see them start turning a light golden brown.  You will also start to smell them as they heat.  You are smelling the oil being released from the seed as it heats.  The golden brown color and light aroma are your two indicators that the seeds are done.
Place the toasted sesame seeds in a glass bowl and set aside.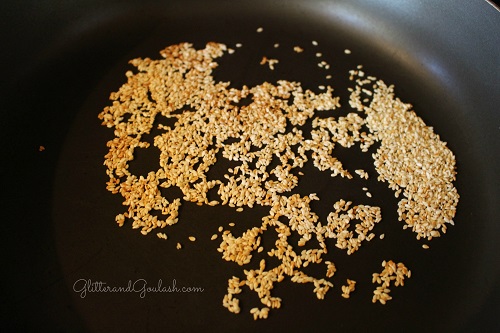 Once your salmon is done marinating, heat a large nonstick skillet over medium-high heat.  Coat the pan with cooking spray and add the fish and all of the marinade to the pan.
Cook the salmon fillets 4 minutes on each side or until the fish flakes easily.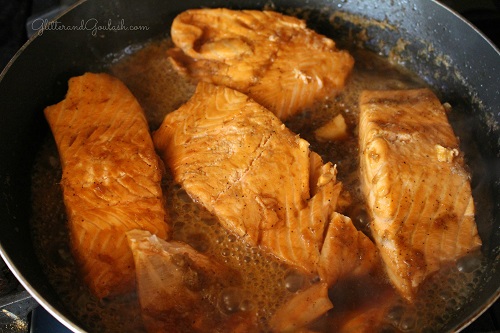 Once thoroughly cooked, place salmon fillets on a plate.  Drizzle remaining glaze from the pan over the fillets and sprinkle with toasted sesame seeds and sliced green onion. Easy peasy!!
This salmon goes perfectly with baked or steamed vegetables any type of rice or potato on the side.
Beautiful, nutritious and bursting with amazing flavors in every bite!!!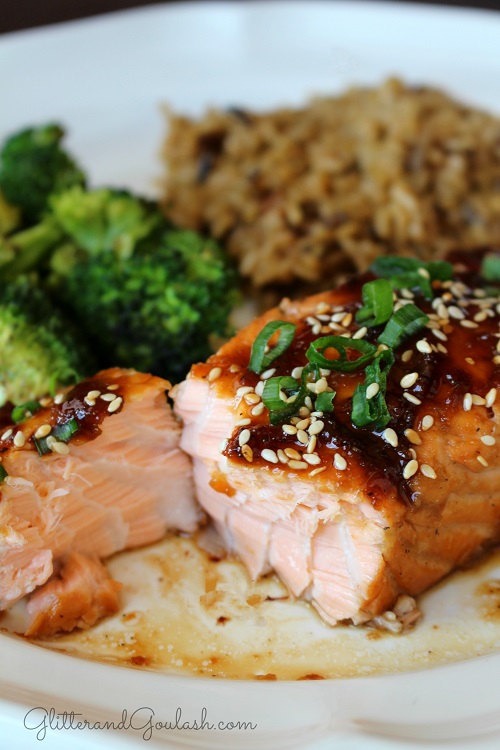 Bourbon Glazed Salmon
Author:
Glitter and Goulash - Julie
Recipe type:
Dinner- fish
Ingredients
6 Tablespoons brown sugar
6 Tablespoons bourbon (can substitute apple juice if desired)
4 Tablespoons low-sodium soy sauce
2 Tablespoons freshly peeled and grated ginger
2 Tablespoons fresh lime juice
6 garlic cloves, minced
½ teaspoon freshly ground black pepper
4 (6 ounce) skinless salmon fillets
cooking spray
¼ cup thinkly sliced green onions
1-2 Tablespoons sesame seeds, toasted
Instructions
Combine first 7 ingredients in a bowl and stir until thoroughly combined.
Place salmon fillets in a ziploc baggie and add all of the marinade. Remove as much air as you can from the bag and seal.
Allow the fish to marinate for 1½ hours in the refrigerator, turning occasionally.
Heat a large nonstick pan over medium-high heat.
Coat pan with cooking spray.
Add fish and marinade to the pan; cook salmon 4 minutes on each side or until fish flakes easily.
Remove from pan and drizzle any remaining sauce from the pan over the fillets.
Add thinly sliced green onions and toasted sesame seeds to the top of the sauce.