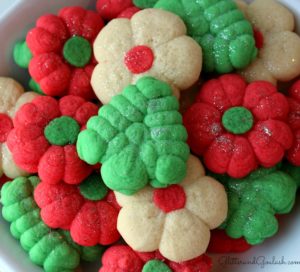 These buttery and delicious Christmas Spritz Cookies are easy and fun to make. They will raise the bar on any cookie platter that you put them on.  You can keep them very basic or add color and a touch of edible glitter to the top for the ultimate festive finish.
These cookies can be made the day of your party or weeks in advance and placed in the freezer in an airtight container. They are an excellent "make ahead" cookie which is perfect before Christmas as everyone is trying to prepare for guests and get their holiday shopping done.
First, start out making the basic Spritz Cookie Recipe (I have the recipe and all directions on my "Valentine's Spritz" post). Then, pick out which press designs and colors you would like to use.  The sky is the limit on these cookies, get creative!
I typically like to stick with the same ones each year, the green tree, the red poinsettia, and the white flower.  Hey, why fix something that isn't broken, right?  Not to mention that I have a daughter who is a total stickler about tradition.  These three designs and colors are what she will always remember our Christmas Spritz Cookies looking like, so who am I to break tradition?
I usually make the green trees first and there is a specific reason for this and you will see why…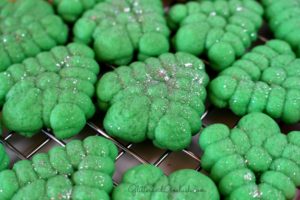 Since there is always a little leftover dough at the end of your press, I will take the left over green dough and use it in my red flowers (which I always do second). I simply make a tiny little ball and place it in the middle of the flower.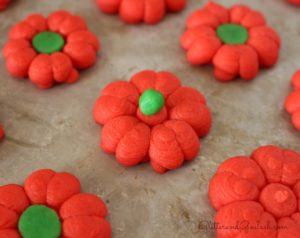 Then, very gently, I use my finger to push down on it slightly until it is flat and looks like the center of my flower.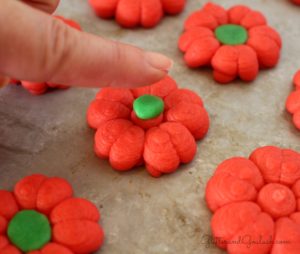 Lastly, I press out my white dough.  I will use the left over red dough for the center of these just like I did for the red flowers.  I know that middle of flowers are not actually red, but it gives the white cookie a little color and makes the over all appearance much more cohesive when they are all placed together on a cookie platter.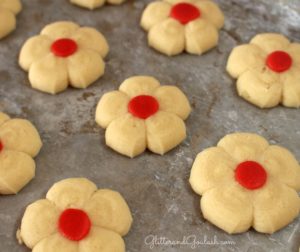 Once the cookies have baked, I will let them cool on the pan for about 5 minutes. Then, to add that extra "pop" of glam to the cookies, I will add some edible glitter to them.  This is completely optional, and this is actually the first year that I am using the glitter myself.  I was a little reluctant, as I wasn't sure how they would look, but they turned out very elegant looking and I will certainly use it again next year.
I have a regular paint brush that I only use for my food decorating purposes.  I will take that brush and dip it in the edible glitter (Disco Dust).  Then very lightly brush on a very light coat on each cookie.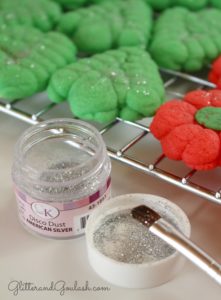 There you have it, beautiful and sparkly Christmas Spritz Cookies.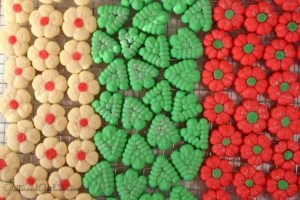 I almost forgot the best part, at least my daughters favorite part that is. I take all of the left over dough, which usually is only enough for about 4 cookies and put it all in the press.  The cookies come out looking tie dyed and are the cookies that my girls get to eat right away.  That is why it is their favorite part. I do this every year for them and they love it.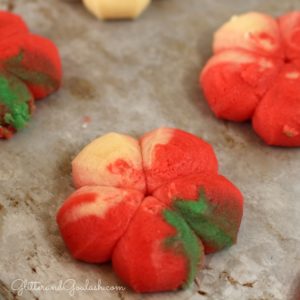 These last multi color cookies that are baked look so cool that they actually inspired me to do a multi-colored cookie. You can see them here, I made them look like Fireworks Spritz for the Fourth of July.  They turned out really great and were the talk of the BBQ that day.