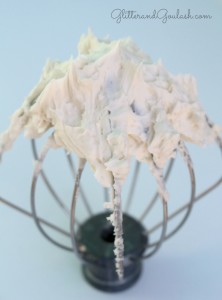 Cream Cheese Frosting is unduobtedly one of my favorite frostings.  This classic smooth and creamy cream cheese frosting , which only has 4 simple ingredients comes together to give you the most creamy, smooth, and decadently rich frosting you have ever had.
This frosting pairs great with many baked goods like pumpkin bars, carrot cake, and also Black Forest Cupcakes.  It is super quick and easy to make at home and tastes out of this world!
Ingredients for this Cream Cheese Frosting are cream cheese, butter, powdered sugar, and butter. You got it, that's it!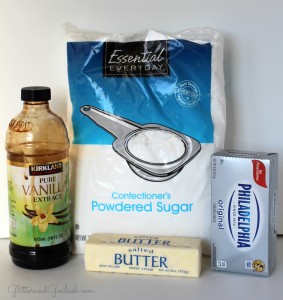 Add softened cream cheese, room temperature butter, and powdered sugar into a bowl and mix for 2-4 minutes or until light and fluffy. During the last 30 seconds of mixing, add vanilla and mix until thoroughly combined.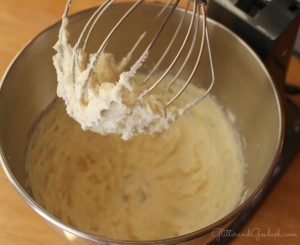 This frosting will be most pliable immediately after mixing.  This is the best time to frost a cooled cake and/or cupcakes.  Since this frosting has such a high cream cheese and butter content, it will firm up significantly once it is refrigerated.
One of my favorite cakes to top with this delightful frosting is Black Forest Cupcakes.  The creamy buttery flavor of this frosting pairs wonderfully with the strong flavor of this cupcake which is made with coffee.  Try it and taste an entirely new level of delicious!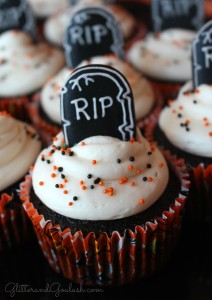 Cream Cheese Frosting
Author:
Glitter and Goulash
Ingredients
8 ounces cream cheese, softened
½ cup (1 stick) butter, at room temperature
3 cups powdered sugar
1½ teaspoons vanilla
Instructions
Mix cream cheese, butter, and powdered sugar together for 2-4 minutes or until light and fluffy.
Add vanilla during the last part of the mixing process.
Once the frosting is completely mixed, frost cooled cupcakes or cake immediately.