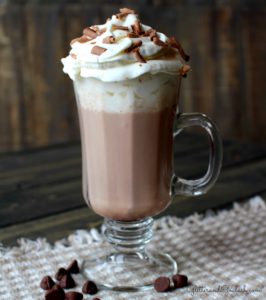 I am a self admitted Hot Chocolate snob.  I love hot chocolate, but very rarely can I find a hot chocolate that is creamy and rich enough to satisfy my expectations for this delicious drink. Far too often, I find hot chocolate to be too watery, not chocolatey enough or too bitter.
After much experimentation in the kitchen, I have come up with this hot chocolate recipe that is too die for!  I must warn you though, it might be TOO rich and creamy for some, so proceed with caution 🙂
Besides this recipe being extremely delicious and decadant, it is also wonderful because it makes a large amount so it is perfect to make for a big crowd.  It is perfect for that hot chocolate bar at your next gathering, bringing in a thermos to the fish house, or to a fun day of sledding.
The ingredients for this hot chocolate are whole milk, heavy cream, sweetened condesnsed milk, and milk chocolate chips.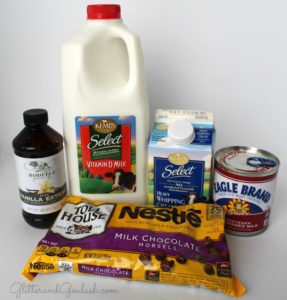 Put all ingredients into a large saucepan and stir. Keep heat on low to medium-low for 10-15 minutes or until all chocolate is melted and has a chance to fully combine with all of the other ingredients. DO NOT let it come to a boil, as you will scald your milk and that never tastes good.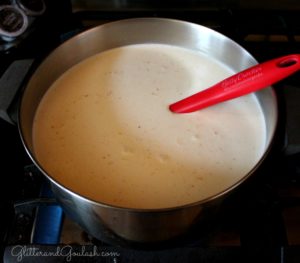 Once your hot chocolate is warmed through, pour into a mug and top with marshmallows or whip cream and don't forget the chocolate shavings…just because it might not be rich enough already:-)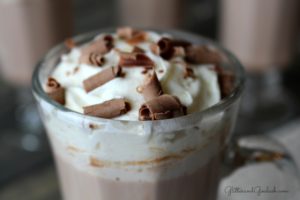 If you have never made chocolate shavings before, here is an easy way to do it.  Take a block of chocolate (I had a Hersheys candy bar left over) and take a vegetable peeler and simply "peel" the chocolate.  You will end up with these beautiful round bundles of deliciousness!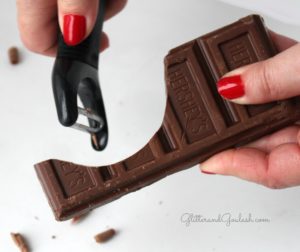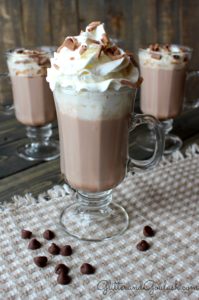 When I make this hot chocolate for a party, it is almost always gone by the end of the party.  When I just make it for my family of 4 though, there is quite a bit leftover. No worries…I just refrigerate the leftovers.
I use my empty milk container that I used to make the hot chocolate with and put the leftover drink in the bottle with a funnel (make sure it has come to room temperature before putting back into the milk jug).  I have stored the leftover hot chocolate for up to 3 days in the refrigerator (never lasts longer than that).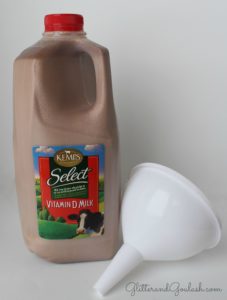 When you are ready for another cup of hot chocolate, simply put it in a microwave safe coffee mug and heat for 30-45 seconds.  It tastes just as wonderful as the moment you originally made it. Just to pre-warn you…the chocolate does separate and harden once it cools. Simply open the jug and break through the solid chocolate with a butter knife.  Then, put the cap back on tightly and shake the jug until the chocolate has mixed in again.
Another option for the leftover hot chocolate is to a make a Frozen Hot Chocolate with it.  Simply add one cup of ice to one cup of the cold hot chocolate and put in a blender. Pulse on high until all ice is chopped and it is a smooth consistency.  Yum!
 Extra Kitchen Tips:
**If you prefer this hot chocolate to be a little lighter, you can always substitute whole milk for a lower fat version (Skim, 1% or 2%). You can also substiture the milk chocolate chips for semi-sweet or dark chocolate if you prefer those chocolates over milk chocolate.
**You can also make this hot chocolate in a crock pot.  Simply put all ingredients into your slow cooker and put on low for 2 hours. Make sure to stir it about every 20 minutes or so just to make sure that all of the ingredients and chocolate are well combined.

Dangerously Rich & Creamy Hot Chocolate!
Author:
Glitter and Goulash- Julie
Ingredients
8 cups whole milk
2 cups heavy cream
1 can sweetened condensed milk
1 bag milk chocolate chocolate chips (11.5 oz)
2 teaspoons vanilla
Instructions
Put all ingredients into a saucepan and warm on low to med-low for 10-15 minutes.
Stir frequently to make sure that all the ingredients and chocolate chips are being thoroughly combined.
Once heated through, pour into a mug and top with whip cream or marshamallows.
Variations of this recipe:
*This recipe can be made lower in fat by using skim, 1%, or 2% milk.
*A different type of chocolate chip may also be used, semi-sweet or dark if you prefer those over milk chocolate.
*This hot chocolate can also be made in a crock pot. Simply put all ingredients in slow cooker on low for 2 hours stirring every 20 minutes.