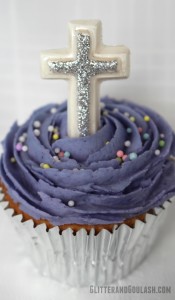 Have you ever needed a certain themed cupcake topper for a party and you just couldn't find it?
Well, that has happened to me many times in the past, so I decided to start making my own cupcake toppers.
One of my favorite types of cupcake toppers to make are chocolate ones.  You have a cupcake, frosting, why not add an extra layer of deliciousness….chocolate?
They are very easy and simple to do, you will just need a few supplies.
You will need chocolate candy melts, a candy form, toothpicks, and a decorators (or ziploc) bag.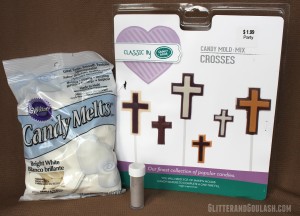 First you need to put your candy melts into your decorator (or ziploc) bag and melt in your microwave.  If you have a "melt" setting on your microwave, use that.  Otherwise, simply check every 15 seconds or so if melting at regular power. You do not want to overheat the chocolate or it will be ruined.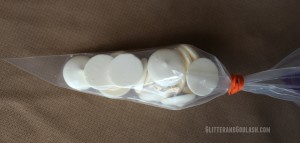 Once chocolate is melted, take bag out of microwave and snip the very tip of your bag off with a scissors.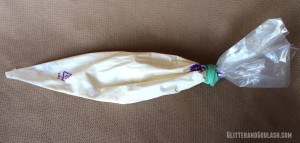 These candy molds are available at any retail craft store and even some of the larger Wal Marts carry them. If you cannot find the one you like in a store, you can always order them online as well.
Fill the mold about 3/4 full.  You don't want to overfill the mold otherwise your end product will not look as nice.  In the picture below, the cross on top is filled with the perfect amount.  The cross in the middle has too much and will not have as nice of lines when released from the mold.
Once they are filled, tap the candy mold very gently to even out the chocolate and get the air bubbles out.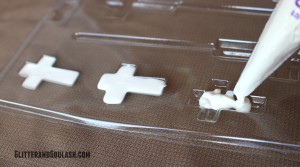 Next you want to take your toothpick and gently place in the bottom middle of the mold.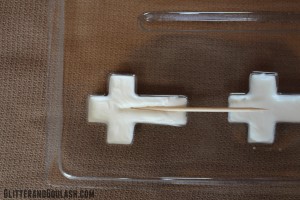 Then, very gently twist the toothpick so that all sides of the toothpick are covered in chocolate.  This will make it more sturdy when you release them from the mold.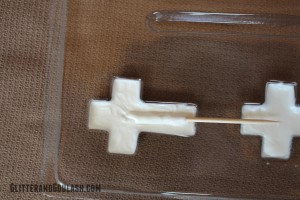 Once the toothpicks are completely covered in chocolate, place the mold in the refrigerator for about 10 minutes.
Once they are completely cooled and hardened, you should be able to gently flip over on a piece of parchment paper and they should pop right out. If they are not coming out on their own, you can gently twist the mold a little (like you would an ice cube tray) to get them to release.  If they still are not coming out, then place them back in the refrigerator to cool more.
Once they are out, you have a beautiful cupcake topper.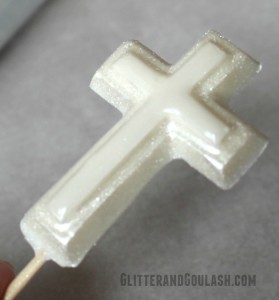 While these were beautiful on their own, I wanted to jazz them up a little bit to really make them "pop". I wanted to match the silver and purple theme that I had at the party, so I mixed up a little edible glue (powdered sugar and water) and painted the very middle of the cross.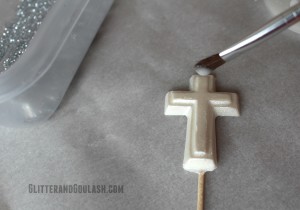 I then sprinkled a little silver disco dust (edible glitter) over the edible glue and gently shook off the excess.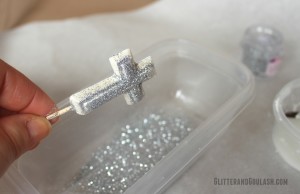 Viola…..a beautiful handmade chocolate cupcake topper. They were delicious!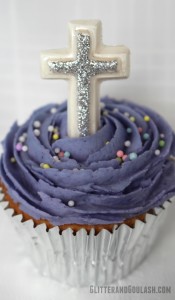 If you have not ever used this edible glitter before…you MUST! It is available at any cake & candy supply store and even at some craft stores (Michaels, Hobby Lobby, JoAnn). It comes in pretty much every color of the rainbow and is super fun!