?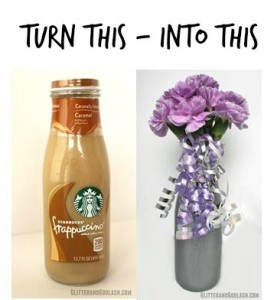 OK, confession time…who has a collection of these bottles in the recycling bin?  I know I do!  Well, when you are done with the bottles' incredibly delicious contents, don't throw them away.  They are the perfect size and shape to make a vase out of.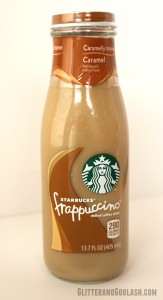 Turning an old bottle into a vase or any decorative jar is extremely easy. You just need a bottle, some acrylic paint, a paint brush, and some mod podge or any other type of sealer.
I needed a couple silver vases for a purple and silver themed party that I was having.  I didn't have time to go shopping for them and certainly didn't want to spend the money on them even if I did find them, so I decided to make some.
Here is how I made them…
First, empty the contents of the bottle and then peel off the stickers. If there is any residual sticky stuff left behind, just take a little Goo Gone or vegetable oil and rub it off with a paper towel.  Running the bottle under hot water will also help loosen the sticky stuff left behind.
Once everything sticky is removed, throw it in the dishwasher or hand wash so that it is clean.
Next, pick your color. I chose a metallic silver color for the base, and added two layers of that (make sure that you are allowing each layer to dry completely before adding the next).  Then, I added two coats of a metallic silver glitter to the top for a little sparkle. I am a sucker for glitter after all 🙂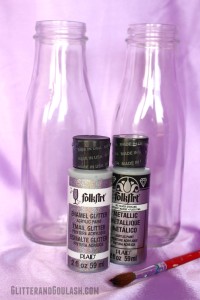 You can purchase basic acrylic paint at any craft supply store like Michaels or Joann Fabrics.  Wal Mart, which is where I bought these colors, actually stocks a pretty large selection of acrylic paint as well. .
Now if you don't think that you will ever use these again, there is no need to seal them with anything.  If you would like to keep these and add them to your inventory of party decorations as I like to do, then you will want to put some sort of a sealer on the paint to prevent it from scratching off.  I simply put two coats of Mod Podge on the outside and it did the trick.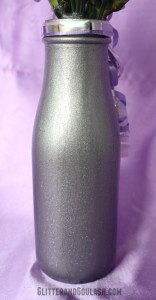 Lastly, once the bottle is completely dry, you will want to apply some sort of ribbon around the neck of the bottle to hide the grooves where the cap screws on.
My first choice would be a nice fabric type of ribbon to put on it. I did not have any of that on hand however, that matched the purple that I was using, so I opted to use some silver, white, and purple curling ribbon that I had on hand.  It did the trick!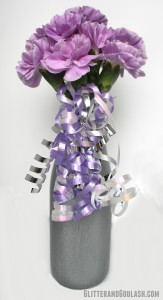 As you can see below, the vases added a beautiful final touch to the table and for only pennies a bottle!