Streusel Topped Blueberry Muffin Recipe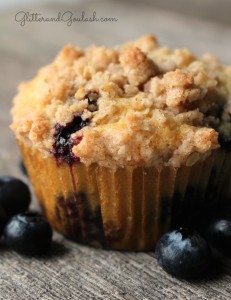 Author:
Glitter and Goulash
For Muffins:
2 cups all purpose flour
1 cup sugar
½ teaspoon baking powder
½ teaspoon baking soda
½ teaspoon salt
1½ cups fresh or frozen blueberries or rasberries
2 eggs. slightly beaten
1 cup (8 ounces) sour cream
½ cup vegetable oil
½ teaspoon
For Streusel:
6 tablespoons flour
6 tablespoons quick cooking oats
4 tablespoons sugar
¼ teaspoon cinnamon
4 tablespoons butter, room temperature
First, make the streusel by adding the flour, sugar, quick cooking oats and cinnamon together. Then, cut in the butter until a you get a crumbly texture. Once mixed, set in the refrigerator while you are mixing the muffin dough (no longer than 10 minutes)
In a large bowl, combine the flour, sugar, baking powder, baking soda and salt: add berries and toss gently.
In a separate bowl, lightly beat eggs and add sour cream, oil and vanilla; mix well.
Stir into dry ingredients and just mix until combined. Do not over mix!
Fill muffin liners or greased muffin tin ⅔ full of batter and add streusel mixture to the top of each muffin.
Bake at 400 degrees for 18-22 minutes or until a toothpick comes out clean.
Cool for 5 minutes before moving to a cooling rack.
Recipe by
Glitter and Goulash
at http://glitterandgoulash.com/streusel-topped-blueberry-muffin-recipe/