Pecan Pie Truffles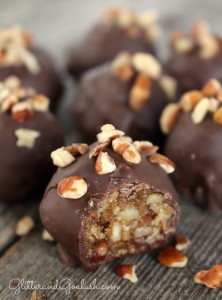 Author:
Glitter and Goulash
2½ cups toasted pecans, finely chopped
1 cup graham crackers crumbs
1 cup light brown sugar
½ teaspoon salt
2 tablespoons real maple syrup
⅓ cup light corn syrup
1½ teaspoon vanilla
16 ounces of melting chocolate
Place pecans on a lightly sprayed cookie sheet. Bake at 350 degrees for approximately 5 minutes. As soon as they become aromatic, remove them from the oven.
In a medium bowl, combine 2¼ cup (should have ¼ cup remaining for top of truffles) toasted pecans, graham cracker crumbs, brown sugar, and salt.
Next, add corn syrup, maple syrup and vanilla, mix thoroughly.
Refrigerate mixture for 15 minutes.
Roll mixture into 1 inch balls and place on a parchment lined cookie sheet.
Refrigerate for an additional 30 minutes.
Melt chocolate according to package instructions, Coat the truffles with chocolate and return to parchment lined cookie sheet. Sprinkle chopped pecans on top of truffle immediately. Let chocolate harden and enjoy!