Mini Chocolate Bundt Cake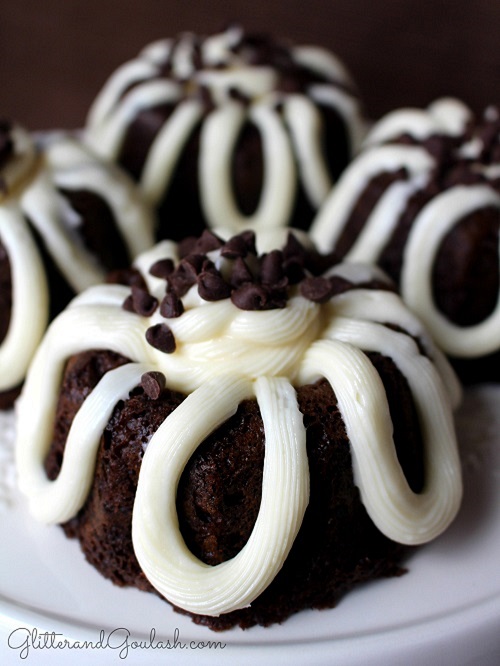 Author:
Glitter and Goulash - Julie
Chocolate Bundt Cake:
1 box of chocolate cake mix (can also use devils food or German chocolate)
1 small box (3.9 oz.) of instant chocolate pudding
1 cup sour cream
4 large eggs
½ cup water
½ cup oil
1 10 ounce bag of mini chocolate chips (1½ cups)
Cream Cheese Frosting:
16 oz. (2 boxes) cream cheese, softened
½ cup butter, softened
4 cups powdered sugar
2 teaspoons vanilla extract
Chocolate Bundt Cake:
Mix the first seven ingredients together. Then, add chocolate chips and stir until completely incorporated.
Pour batter into a greased bundt pan (or 10 mini bundt pans). Cooking spray works the best.
Bake at 350 degrees for 45-50 minutes (15-18 for mini bundt cakes).
Remove from oven and let cool in the pan for 20 minutes (or 10 minutes for minis).
Remove from the pan(s) and move to a cooling rack.
Once the cake(s) is/are completely cooled, wrap in plastic wrap and refrigerate overnight. You can frost them now, or wait until just before you serve them.
Allow cake(s) to sit at room temperature for at least 30 minutes before serving.
Cream Cheese Frosting:
In a medium bowl, cream together the cream cheese and butter until creamy.
Add vanilla and stir until combined.
Gradually stir in the powdered sugar.
Place frosting in a patry bag and apply to completely cooled cake(s), If you choose to wait to frost them, then refrigerate frosting until ready to use.
Recipe by
Glitter and Goulash
at http://glitterandgoulash.com/mini-chocolate-bundt-cake/