Girl Scout Lemonades Cookie Truffles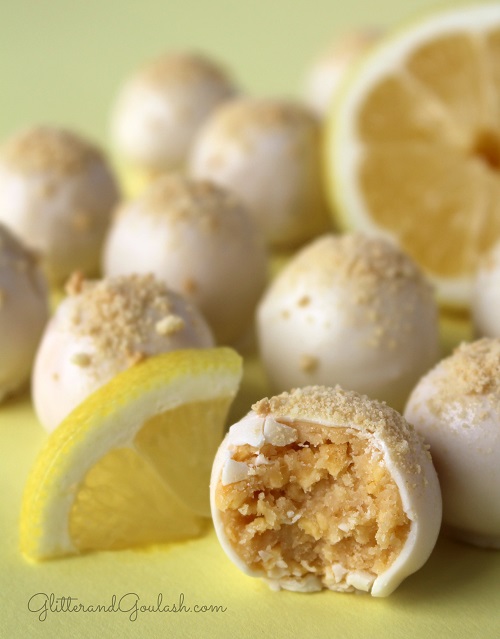 Author:
Glitter and Goulash-Julie
1 box Girl Scout Lemonades Cookies (can use Oreo lemon cookies also)
6-8 ounces cream cheese
1 bag white melting chocolate
crushed graham crackers for garnish
Place cookies and 6 ounces cream cheese into a food processor and pulse until completely combined. Test the dough by rolling a small portion in your hand. If the dough sticks together well, then do not add any additional cream cheese. If the dough is crumbly and does not stay together, then add the remaining 2 ounces of cream cheese and pulse again until mixed completely.
Once dough is completely mixed, use a 1¼ inch dough scoop to measure out all of the dough.
Roll each portion of dough in the palm of your hands to form a ball and place on a lined (parchment paper or wax paper) cookie sheet.
Place in the refirgerator for 10 minutes to chill.
While the dough is chilling, begin melting your chocolate.
Once dough has chilled, dip each ball into the melted chocolate.
Use a fork to scoop truffle out of the chocolate and lightly tap fork on the side of the bowl to get all excess chocolate off.
Set each truffle back onto the lined cookie sheet and top with crushed graham crackers or crushed Lemonades cookies.
Let dry completely and store in an airtight container for up to 5 days.
Recipe by
Glitter and Goulash
at http://glitterandgoulash.com/girl-scout-lemonades-cookie-truffles/