Pumpkin Spice Cookies with Brown Butter Frosting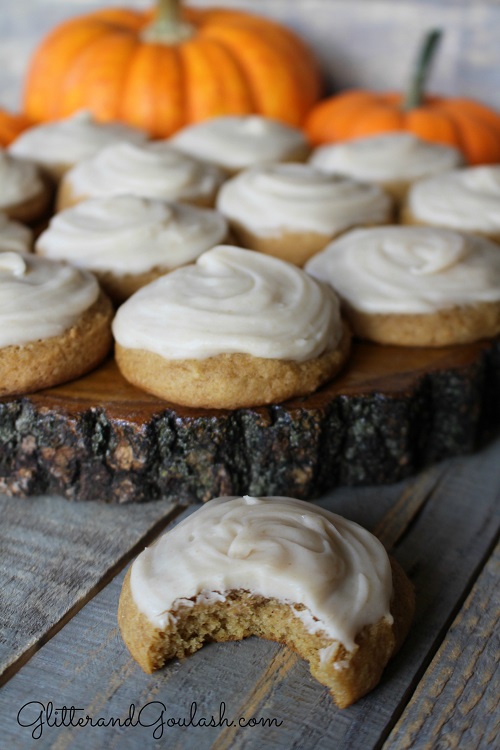 Author:
Glitter and Goulash-Julie
⅔ cup granulated sugar
⅔ cup packed brown sugar
¾ cup butter, softened
1 teaspoon vanilla
½ cup pumpkin puree (not pie mix)
2 eggs
2¼ cups all purpose flour
1 teaspoon baking soda
1 teaspoon ground cinnamon
¼ teaspoon ground cloves
¼ teaspoon ground ginger
¼ teaspoon ground nutmeg
½ teaspoon salt
Browned Butter Frosting:
3 cups powdered sugar
1 teaspoon vanilla
3-4 tablespoons of milk
⅓ cup butter (do not use margarine or any butter substitute)
Heat oven to 325 degrees F
In a large bowl, beat granulated sugar, brown sugar, ¾ cup butter and 1 teaspoon vanilla on medium speed. Beat in pumpkin and eggs until well mixed.
On low speed, beat in flour, baking soda, cinnamon, cloves, ginger, nutmeg and salt.
Drop dough by heaping tablespoons or cookie scoop onto an ungreased cooke sheet.
Bake 9-11 minutes.
Immediately remove cookies onto a cooling rack. Cool completely 30-45 minutes.
To make the Brown Butter Frosting:
Place powdered sugar, 1 teaspoon vanilla and 3 tablespoons milk in a medium bowl.
In a medium saucepan, hat ⅓ cup butter over medium heat, stirring co nstantly, just until light brown.
Pour browned butter over powdered sugar mixture. Beat on low speed for 1 minute or until smooth.At this point, you want to check the consistency of your frosting. If it is too thick, gradually add the last tablespoon of milk until you reach your desired consistency.
Generously frost each cookie.
Recipe by
Glitter and Goulash
at http://glitterandgoulash.com/pumpkin-spice-cookies-with-brown-butter-frosting/