Rosemary Bread-Romano's Macaroni Grill Copycat Recipe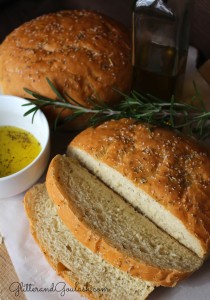 Author:
Glitter and Goulash (Adapted from Food Network)
2 teaspoons active dry yeast (or one packet)
2 teaspoons sugar
1 cup warm water (divided)
1 tablespoon extra-virgin olive oil, plus more for brushing and coating bowl
2 tablespoons dried rosemary (divided)
2½ cups all-purpose flour, plus more for dusting
1 teaspoon fine (table) salt
½ teaspoon kosher salt
Freshly ground pepper, to taste
Combine yeast, sugar, and ¼ cup warm water in a large bowl. Let stand for 5 minutes, until foamy.
Add 1 tablespoon olive oil, 1½ tablespoons rosemary, fine (table) salt, pepper, ¾ cups warm water and flour to the same bowl. Mix with a large spoon until dough forms.
Add dough to a lightly floured surface and work by hand for 5-7 minutes or until dough is elastic and smooth. You can also use a stand mixer for this step. Simply work dough on medium-high speed with a dough hook for 8-10 minutes.
Coat the inside of a clean large bowl with olive oil. Add your dough to the bowl, cover with plastic wrap and let sit for 1-2 hours or until doubled in size.
Once dough has doubled, place on a lightly floured surface. Divide dough in half. Work each half for another 1-2 minutes and place on a parchment paper lined baking sheet.
Let dough sit uncovered, for another 1-2 hours, or until double in size.
Once the dough has doubled, place in a 400 degree oven and bake for 10 minutes.
Remove bread from oven and coat with a light layer of olive oil. Then sprinkle kosher salt and rosemary on top.
Return to the oven and bake an additional 10-12 minutes.
Let cool slightly. Serve warm with a side of olive oil with crushed black pepper.
Recipe by
Glitter and Goulash
at http://glitterandgoulash.com/rosemary-bread-romanos-macaroni-grill-copycat-recipe/