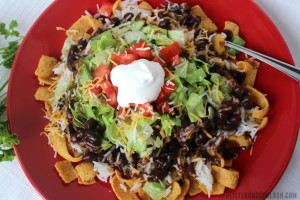 Ever heard of haystacks before?  I never did either until I met my husband. Haystacks was a meal that he grew up on and they served a lot at his school.
So, what is a haystack you ask?  Well, the best description that I can come up with is it is like a taco, but without meat.
I must admit, they didn't sound too appetizing to me at first, but once I played with the recipe a little, I have discovered that it is a delicious meal!
My daughters love them so much they beg for them in their school lunches and they have become one of our "go to" meals on those nights where you only have 15 minutes to whip up a meal.  That is literally how long it takes to make this meal..super speedy!
The ingredients that go into Haystacks are Fritos, rice (I use Basmati), black beans, cheese, lettuce, sour cream, tomatoes, and taco sauce.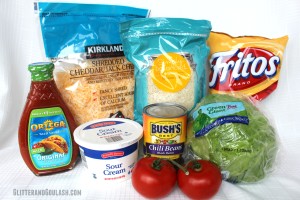 The only "cooking" involved in this recipe is warming up the beans and making the rice.  Oh yeah, and cutting the lettuce and tomatoes up.
You can use any white rice for haystacks, I prefer Basmati rice, though.  The Basmati rice has a nice nutty and buttery flavor to it, so using this rice just gives the overall product a little deeper flavor than plain white rice.
So, once you have made a batch of rice and warmed up your beans, it is time to dish and eat!
We joke in our house about the proper layering technique of these ingredients. Honestly, you mix it all together anyway so it really does not matter. However, for the sake of presenting the meal the first time you serve it, the proper layering (according to me) is as follows:
Fritos on the bottom, then rice, black beans, cheese, lettuce, tomato, sour cream, and finally taco sauce.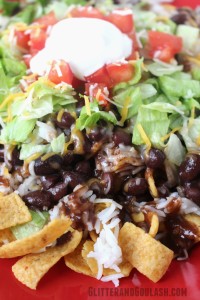 Haystacks~My Way!
Fritos
basmati rice (or any white rice)
Bush's black Chili Beans
shredded cheese
lettuce
tomato
sour cream
taco sauce (or salsa)
Cook rice according to the package instructions. Warm up the black beans in a separate saucepan. Once both the rice and beans are ready, assemble the haystack in the following order:
Fritos on the bottom, then rice, black beans, cheese, lettuce, tomato, sour cream, and finally taco sauce.
Extra Tip: This meal is great the next day to bring to work for lunch or pack in the kids lunch box.  I simply reheat the beans and rice and place in a thermos to stay hot.  Then, place lettuce in a medium size container (it should be big enough to fit all ingredients that go into the haystack). Then, place the rest of the ingredients in separate containers and assemble when ready to eat….yum!