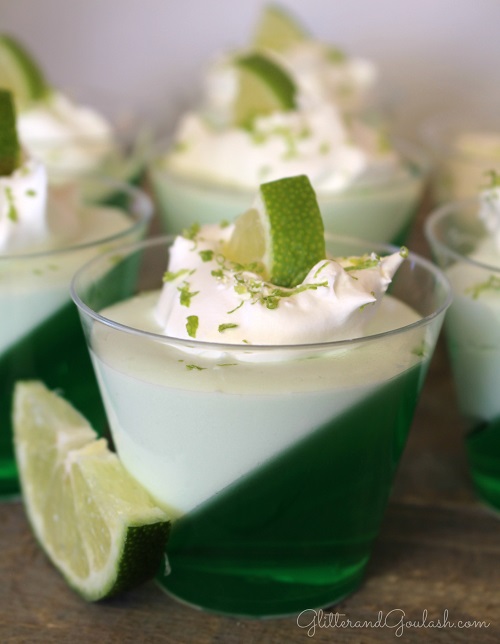 These Lime Jello Parfaits are deliciously light and refreshing.  They can be served as a dessert or a side dish to any meal. The striking contrast between the green Jello and Cool Whip make for an eye catching presence on any buffet table. They are perfect for St. Patricks Day or any celebration that has the color green as part of your theme.
Not only do they taste great, they are super quick and easy to make. Other than the few hours required to let the Jello set, these parfaits can be whipped together in under 5 minutes.
If you are not a huge lime fan, don't worry.  You can use this recipe with any flavor of Jello. Whether you just prefer a different flavor, or have a color theme that you are using, the sky is the limit.  Fruit can even add fruit to some for an additional layer of yumminess. This is a batch of Strawberry Jello Parfaits that I made with sliced strawberries in the jello and on top for a garnish.
The ingredients needed for these Lime Jello Pafaits are: Jello, Cool Whip, a lime (optional for garnish) and 3-5 ounce clear plastic cups. The cups can be purchased at any local retail store (Target or Wal Mart) or a party supply store (Party City).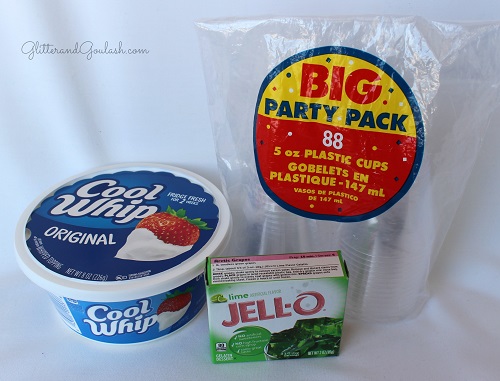 First, make the Jello according to the box instructions. Chill until slightly thickened (about 15-20 minutes).
Once the Jello is slightly cooled and thickend, set aside 1/3 cup of liquid Jello. This will be used for the other part of the parfait.
Now, spoon the Jello mixture into glasses.  Chill glasses at an angle (propped in a muffin tin) until Jello is set (about 3-4 hours).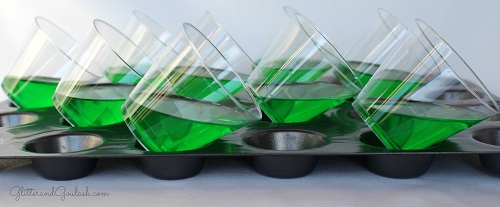 Meanwhile, fold 1 cup of Cool Whip into the reserved 1/3 cup liquid Jello.  Once mixed, cover with plastic wrap and refrigerate until Jello cups have set. This mixture will be the other half of the pafait.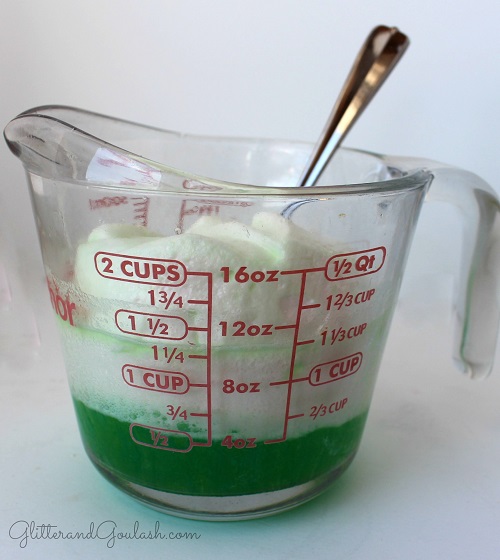 Once the Jello is set, spoon the reserved Cool Whip/Jello mixture into glasses of set Jello.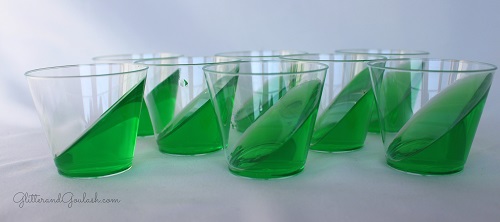 Lastly, garnish each glass with one small spoonful of the remaining plain Cool Whip.
For an additional finishing touch (completely optional), you can use a small wedge of a lime and lime zest or some colored sprinkles to add that final touch.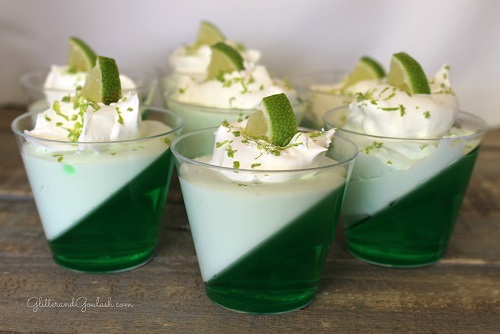 Place on a platter for a stunning display at any party!
Refreshing and delicious!
You can make any flavor/color of Jello that you want.  If you
Kitchen Notes: These parfaits can be made up to two days in advance, just make sure that they are covered in an air tight container.
Looking for other green or St. Patrick's Day desserts? Check out all of my recipes here.
Lime Jello Parfaits
Author:
Glitter and Goulash - Julie
Recipe type:
Dessert - Jello
Ingredients
1 (3 oz.) package of lime Jello
1 (8 oz) container of Cool Whip
3-5 ounce clear plastic cups
1 lime or sprinkles for garnish (optional)
Instructions
Make Jello according to package instructions.
Allow Jello to cool in refrigerate for 15-20 minutes.
Once Jello is slightly cooled, reserve ⅓ cup of Jello and set aside.
Then, spoon slightly cooled Jello into clear plastic 3-5 ounce cups. Set in a muffin tin at an angle to set completely.
Meanwhile, take the reserved ⅓ cup of Jello and fold in 1 cup of Cool Whip.
Once this is thoroughly combined, cover and put in refrigerator until the cups of Jello have set completely (usually 3-4 hours).
Once the Jello cups are set, add a spoonful of the Jello/Cool Whip mixture to each cup.
Then, add one small spoonful of remaining Cool Whip to the top of the parfait.
Garnish with a small lime wedge and lime zest or sprinkles.