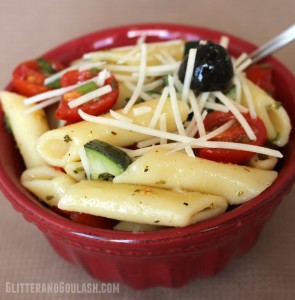 Mostaccioli Salad is a wonderful cold salad to accompany any meal.  This salad has the perfect combination of vinegar and sugar that will delite and wake up the pallet of anyone.
This salad is the perfect recipe to grab if you are looking for a potluck item to bring to a party.  Since there is no mayonnaise in this recipe, there will be no fear of letting it sit out on a table.  It always brings rave reviews with everyone asking for the recipe.
To make this delicious salad, you will need: mostaccioli, oil, vinegar, sugar, salt, pepper, garlic powder, mustard, cherry tomatoes, parsley, green onions, and cucumbers.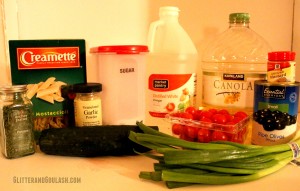 First, you will want to boil the mostaccioli noodles according to directions on the box. Then place in a large bowl and pour oil over noodles.  Stir so that all noodles are covered with the oil, then drain the excess oil.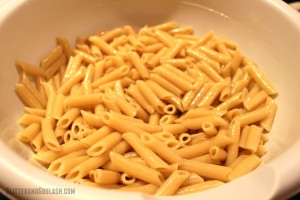 Next, mix vinegar, sugar, salt, pepper, garlic powder, and mustard in a small bowl.  Combine thoroughly and set aside.
Now you will want to prep all of your vegetables and add to the mostaccioli noodles.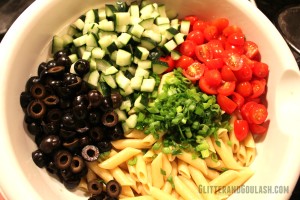 To prepare the cucumbers, I like to slice them in half the long way with ends removed.  Then take a spoon and scoop out all of the seeds in the middle.  I then cut into thin strips and chop.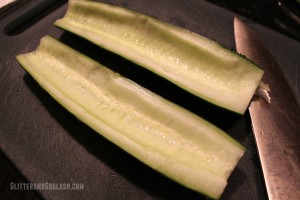 Next, pour your liquid/spice mixture over the pasta and vegetables. Stir to thoroughly combine.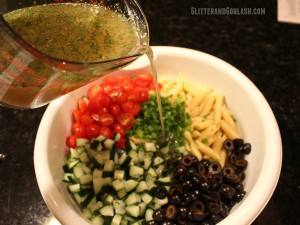 Cover and refrigerate for 2-3 days. You can eat this salad right away, but the longer it marinates, the more intense the flavor is. I would highly recommend letting the salad marinate for the suggested amount of time, it is well worth the wait!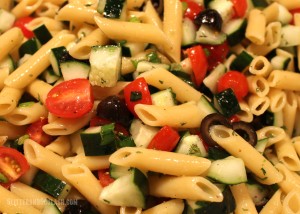 Mostaccioli Salad:
1 box mostaccioli noodles, cooked and drained
1/4 cup cooking oil
1 1/2 cup white vinegar
1 1/2 cup white sugar
1 teaspoon salt
1 teaspoon pepper
1 teaspoon garlic powder
2 teaspoons prepared mustard
1 dry pint of cherry or grape tomatoes, halved
2 Tablespoons chopped parsley
1 bunch of green onions, chopped
1-2 medium cucumbers, chopped and seeds removed
1 small can sliced black olives
1/3 cup shredded parmesan cheese (optional)
In a large bowl coat cooked mostaccioli with oil.  Stir to coat all noodles and drain excess oil.
In a small bowl combine vinegar, sugar, salt, pepper, garlic powder, and mustard, set aside.  Prepare all vegetables and mix with noodles. Pour liquid mixture over the noodles and vegetables and stir.  Cover and refrigerate for 2-3 days, stirring occasionally.
When ready to serve, stir and top with parmesan cheese (optional).
Makes 12-15 servings.