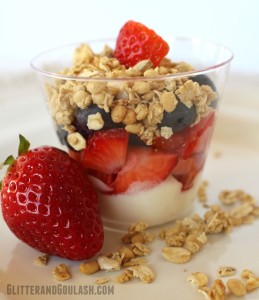 This is one of our families "go to" snacks.
Berry parfaits are always a hit!
These parfaits are great for an after school snack, an addition to a school lunch, or a quick side to any meal…versatile, quick, AND healthy, win-win!!!
These parfaits consist of vanilla yogurt, granola, and berries.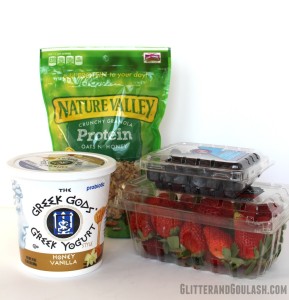 Simply add vanilla yogurt to the bottom of your cup.  Our favorite kind of yogurt is Greek God's Honey Vanilla..delicious by itself or in these parfaits.
Then add a layer of washed and cut berries.  You can choose whatever berries you have on hand, blackberries are especially delicious with this yogurt.
Then add another layer of yogurt to the top.  Complete these tasty treats with a spoonful of your favorite granola on top!  Easy peasy and delicious!!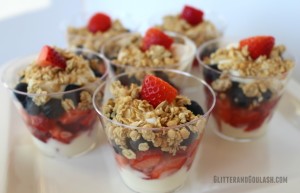 Extra Tip:
 If you are going to pack this parfait for you or your child's lunch, put the granola in a separate container.  It should get added right before it is ready to be eaten or it will get soggy.