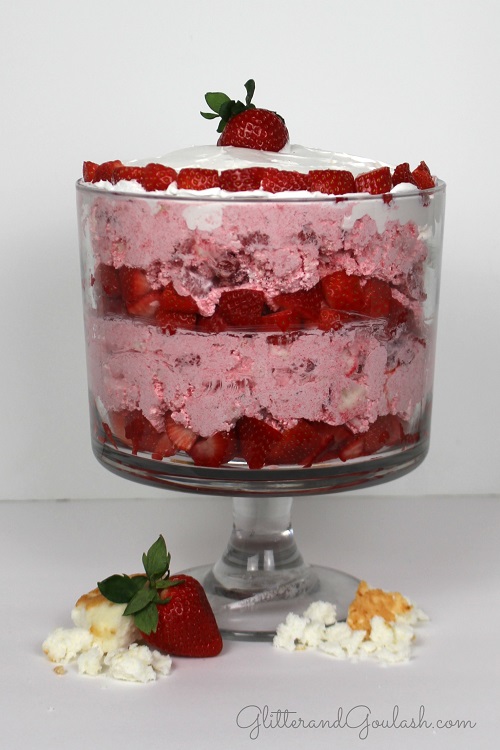 This ridiculously delicious, quick and easy Strawberry Fluff dessert only uses four simple ingredients.  The combination of the minimal amount of ingredients this recipe calls for and its' ease of preparation, makes this recipe a keeper for sure!!
This Strawberry Fluff can be served as a dessert or as a side dish.  It is so versatile that it goes just as beautifully with a casual summer barbeque, as it does with a formal Christmas prime rib dinner.
It is super easy, even for a beginner cook. You simply add 4 items to a bowl, stir and eat.  Doesn't get simpler than that, plus it looks beautiful! I make this every year for Christmas Day and it is always one of the favorites!
The four ingredients that you will need for this Strawberry Fluff Dessert are:
Cool Whip, angel food cake, strawberry jello and fresh or frozen strawberries.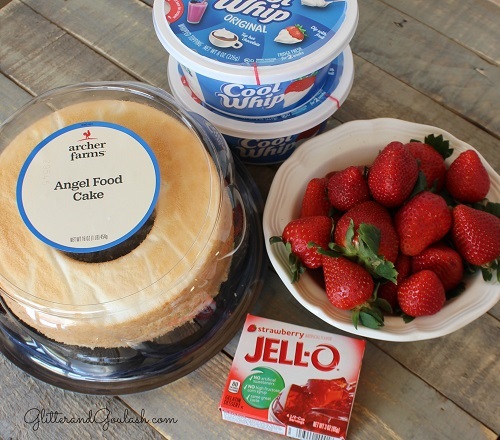 The first thing that you will want to do in making this dessert is to crumble up your angel food cake into bite size pieces.  Place these in a large bowl with the remaining ingredients and stir with a large spoon or spatula until well combined.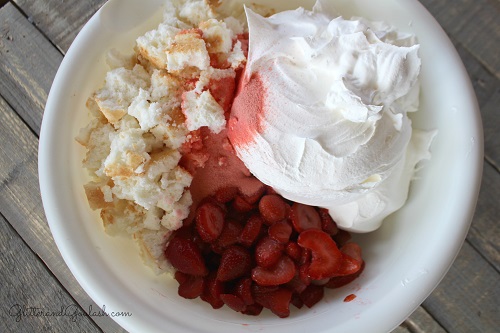 Once all four ingredients are completely combined, you are ready to eat!  Yes, it is REALLY that simple!!!
If you would like to get a little fancy or dress the strawberry fluff up a little, there are several different ways that you can serve this.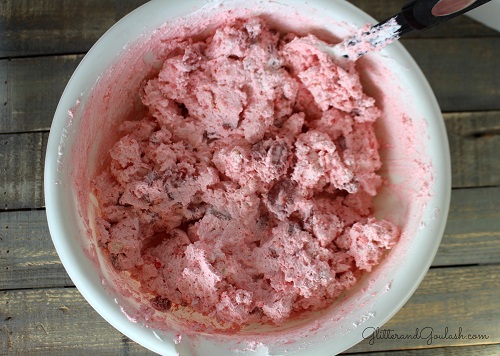 First, is to simply serve in a small bowl garnished with a beautiful fresh strawberry on top or on the side.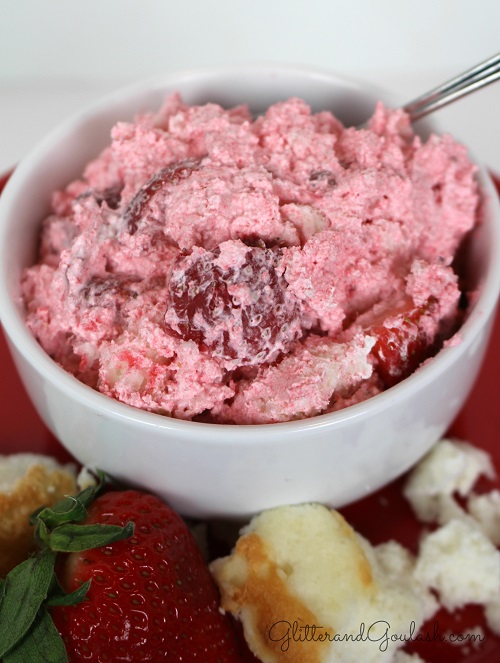 The next way, and this is the way I choose to display it for fancier celebrations, is in a trifle bowl.
I usually divide the fluff into two equal parts and layer my bowl first with 1/2 of my fluff, then add a layer of cut fresh strawberries in the middle, topped with the remaining strawberry fluff. Put a dollop of Cool Whip or whip cream on top with a beautiful fresh strawberry and viola…Strawberry Fluff perfection!
If it is strawberry season, and you have a plethora of strawberries to use up , you can add an extra layer of strawberries to the top and bottom of the fluff as well (like I did in this picture). The extra layers of fresh strawberries will bump up your already beautiful presentation to the next level by adding extra color and contrast!
One thing that I love about this recipe, is that it is VERY forgiving and almost impossible to mess up.  For example, in the batch made that is pictured below, I used one pound of frozen strawberries in the fluff itself, but also added layers of fresh stawberries for presentation.  So, in all reality, I used more like a pound and a half of strawberries instead of the pound originally called for in the recipe.  Still delicious!!!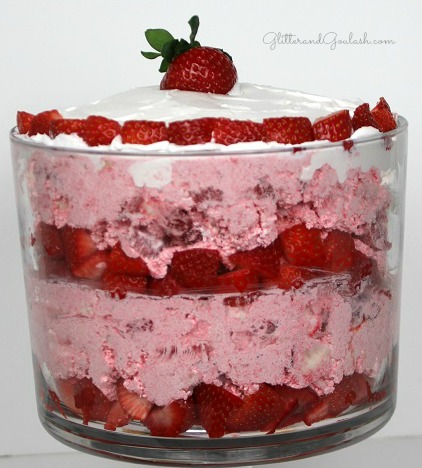 The third way to display this strawberry fluff is to put it into individual cups and layer it with fresh strawberries.  I usually use this presentation for any type of kids parties, or even my daughters lunches. For some reason, kids (and adults) just love little individual portions.
Here is an example of some that I did for Valentine's Day. I made everything the same as above, but put them in little clear cups and added a small dollop of Cool Whip to the top with some fun sprinkles and a conversation heart on top.
Click here for full instructions for theses Valentine's Day parfaits.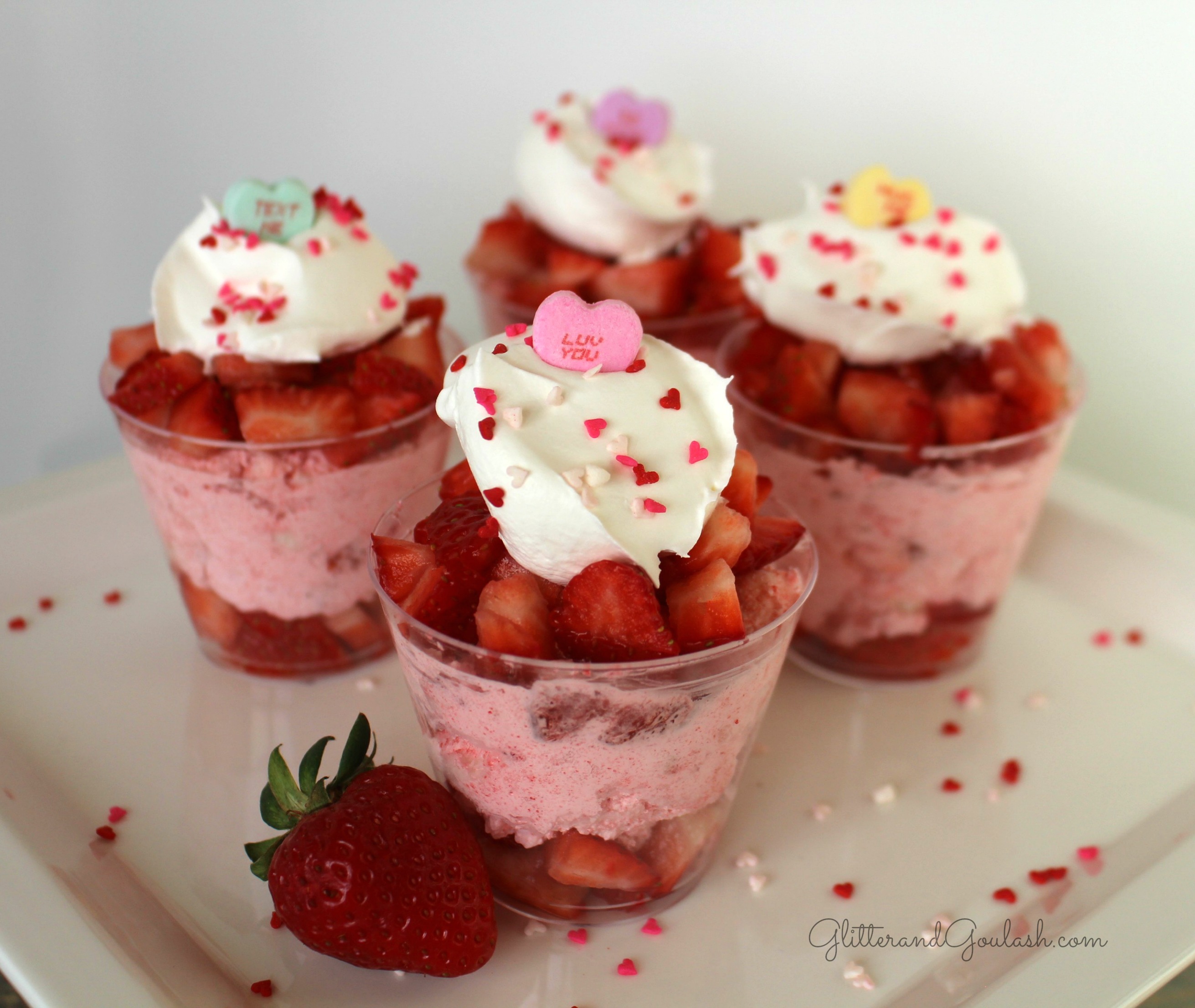 Quick and Easy Strawberry Fluff Dessert
Author:
Glitter and Goulash
Recipe type:
Dessert or Side Dish
Ingredients
1 angel food ring (or 2 loaves), broken into bite size pieces
1 pound of fresh or frozen strawberries, cut into small pieces
16 ounces Cool Whip, thawed
3 ounces strawberry Jello (use the powder as is, do not add water)
Instructions
Break angel food cake into bite size pieces into a large bowl.
Add remaining three ingredients and stir until thoroughly combined.
Place in a serving or trifle bowl and refirigerate until ready to eat.
Can be made a day ahead of time if needed. Simply store in an airtight container in the refrigerator.