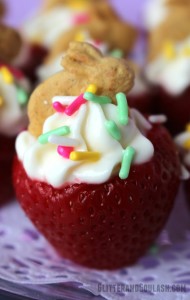 Here is a fun little treat to put on your Easter buffet table.
Strawberry Bunny Bites are a refreshing snack to have once you've gotten your fill of all the Easter candy.
Fun, festive, and delicious!
All you need for these delicious little treats are strawberries, Annie's bunny grahams, cream cheese, and marshmallow creme.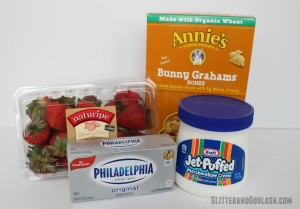 You will first want to mix your softened cream cheese with your marshmallow creme. Once you have thoroughly beat that mixture together, put it in a piping bag or a ziploc sandwich baggie and set aside.
Next, wash and pat dry strawberries.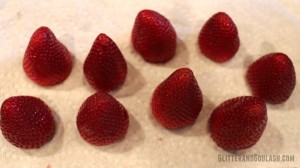 Then, slice off both ends of strawberries.  These strawberry bites will be standing on the smallest end of the strawberry so try to cut that end as straight as possible.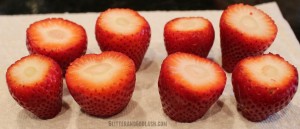 Next, core out the top (widest) part of the strawberry.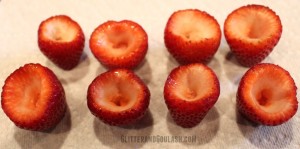 Now fill the cored strawberries with the cream cheese/marshmallow creme mixture you had set aside.
For a beautiful end presentation, I topped them with some fun sprinkles and a graham bunny.  You could also just crush up some of your extra graham bunnies and top with them.  Whatever you choose to put on top, it is hard to stop at just one!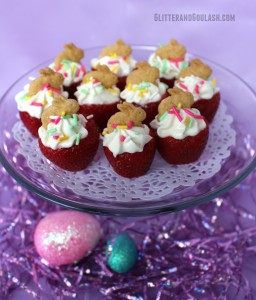 Strawberry Bunny Bite Filling:
1 8oz. cream cheese, softened
1 7oz. jar of Marshmallow Creme
Thoroughly mix cream cheese and marshmallow creme together.  Place in a piping bag or ziploc bag with the corner cut and pipe into cored strawberries.
Extra Tip:
This filling recipe can also be used as a dip for any fruit.  Mix together and serve on the side of any fruit, my daughters (and I) love it!