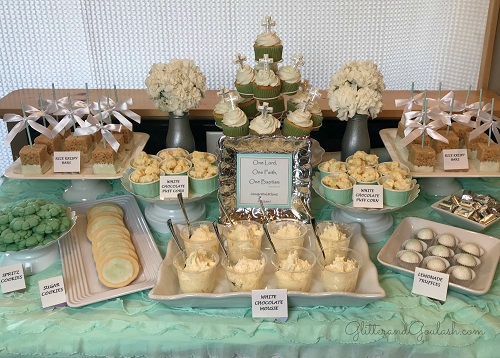 A teal, white & silver dessert table for baptism….beautiful!
This weekend we celebrated my youngest daughter's baptism. It was such a wonderful moment to share with friends and family.
One of her favorite colors is light teal, so we decided to go with that for the color theme of her dessert table.
Along with the teal, I incorporated white to make it pop and some silver to accent the teal and white.
One of the most critical pieces of staging a table with a color theme, is to start with a tablecloth or some sort of fabric remnant.  This is a wonderful way to add your themed color right from the get go. The blank canvas to paint on, if you will.
Next, I focus on dishes.  I like to go with the monochromatic look when I am choosing my serving platters. The pattern of the dishes does not have to match necesssarily, but the color should. For this table, I chose white serving platters.
Just to make the teal and white "pop", I added some silver accents here and there for depth and interest. It really gave the table an extra boost of elegance.
When it comes to the actual desserts that are served, I also try to stick with the color theme and monochromatic look.  Since it was my daughters special day, she got to pick some of her favorite desserts.
My daughter's first choice of desserts was a mousse.  She has been obsessed with this quick and easy mousse for awhile now, so it seemed only fitting to add it to her dessert table. It is two simple ingredients, instant pudding and whipping cream (replaces milk in regular recipe). She prefers the chocolate, but for sake of matching our table, we went with a white chocolate flavor.
I put it into these cute little 5oz. plastic cups for individual servings and added these adorable little silver spoons from the local Dollar Tree.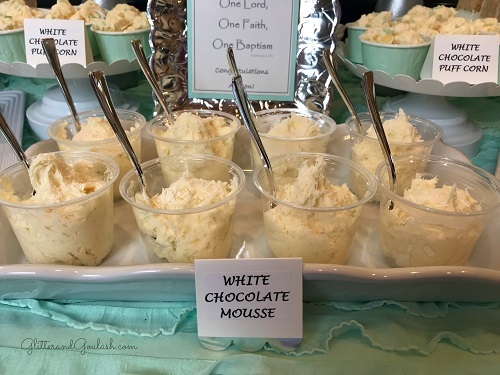 Next up, was this fun and delicious White Chocolate Puff Corn.  I love making this for parties; since the look of it is so plain, you can add any color sprinkles to help it match your party theme. You can also make it in advance and it is SUPER quick and easy.  Two of my favorite things when it comes to party planning.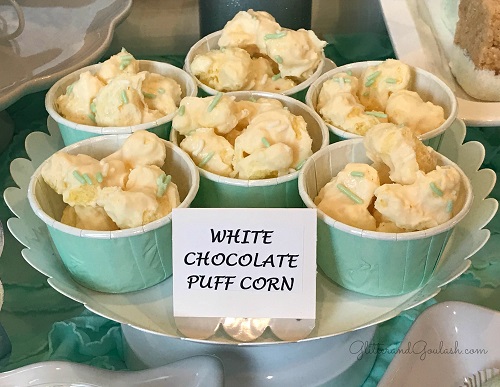 Another of my daughter's favorites (along with our entire family) are these outrageously delicious Rice Krispy Bars. This is a recipe that truly stands out from the "standard" Rice Krispy Bar recipes.  It is one of my most popular recipes, check them out for yourself and you will taste the difference!
To make these Rice Krispy Bars look a little fancier, I dipped the bottoms in white chocolate and added some teal sprinkles to them (hard to see in the picture).  I also added a fun teal and white polka dot candy stick and white bow. Using the candy sticks gave them a beautiful presentation AND made them easier to eat.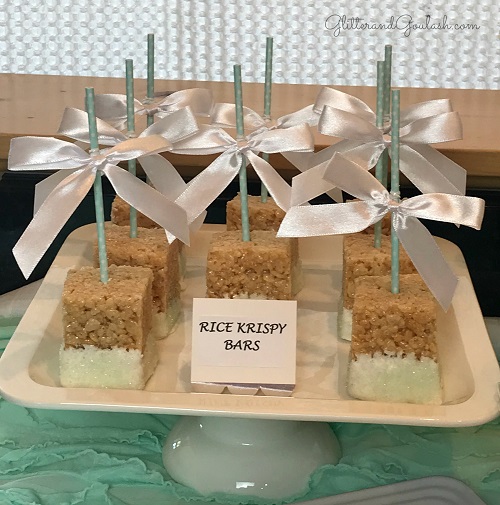 These Classic Spritz Cookies are always a favorite as well.  They are so versatile, and another example of a wonderful "blank slate" recipe to use to add a specific color to your table.  I added some teal food coloring to the dough and a very small amount of edible disco dust to the top just to give them a little extra flair.  After all, we eat with our eyes first, right!
This is another recipe that can be done ahead to save some time in the kitchen during the day of your event.  Simply let cool completely and place in an airtight container up to 4 weeks in your freezer. Thaw the morning of your event.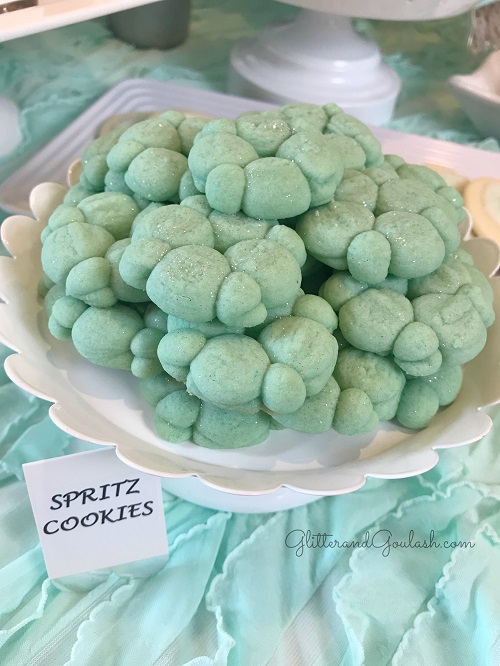 I had a really hard time finding any cross cupcake pics for my cupcakes, so I decided to make my own.  I simply got a Wilton candy mold and filled them with white chocolate and a toothpick, viola…a DIY cupcake pic.
I also made an edible glitter paste (edible disco dust with a drop of vodka) and applied it to the middle of the cross to help it match our theme.
Click here for full DIY Cross Cupcake Pic instrucions.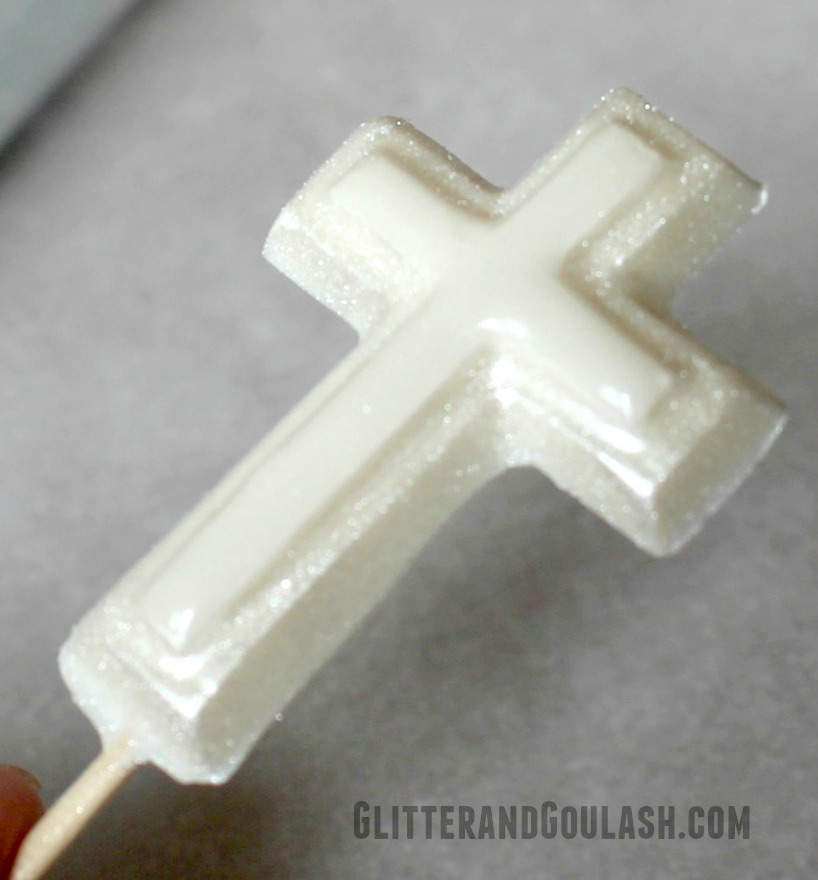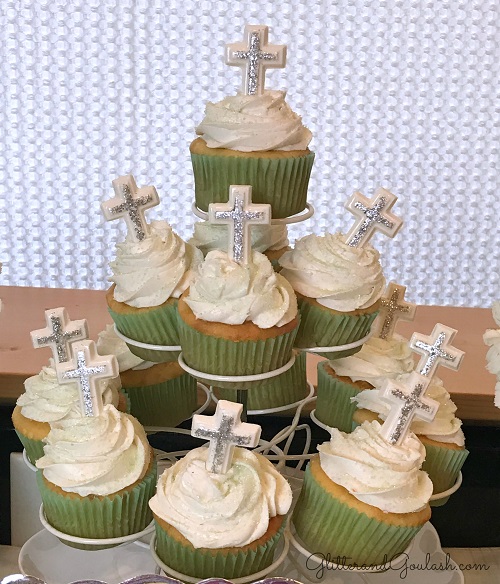 Similar to other girl scout families across the U.S. this time of year, we typically have a lot of left over cookies filling up our freeze.  So, this next dessert was not so much of a request from my duaghter, but instead a way to use up some left over cookies.
These Lemonade Cookie Truffles (full recipe and instrucions here)  are made from the Girl Scout "Lemonades" cookies and cream cheese mixed together and dipped in a layer of  white chocolate.  Typically, I put crushed graham crackers or lemon zest on the top of these for garnish, but out of respect to the color theme for this particular day, we had to go with the teal sprinkles again.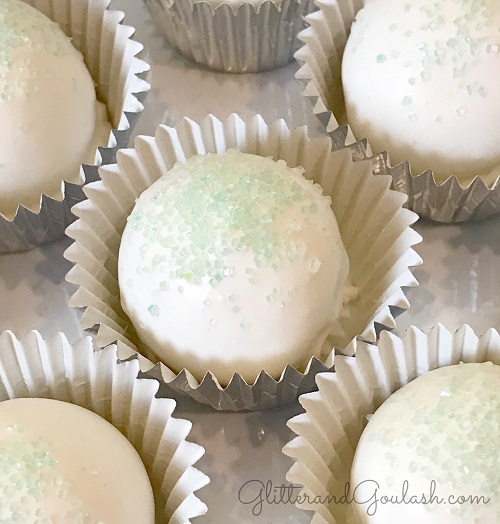 Last, but not least, we have the classic sugar cookie with a decorator frosting and teal sprinkles. Classic, simple and delicious!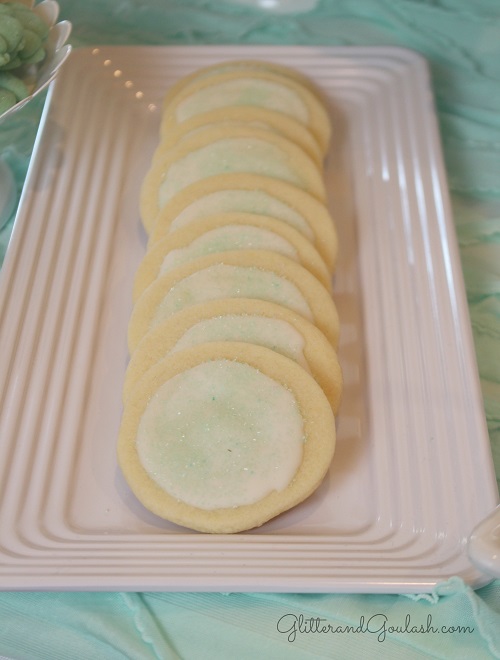 For decorations on the table, I added simple, but oh so elegant, white carnations to some mini silver votivess.  I added 5 of them in a line down the center of a light teal runner that matched the fabric that I used on the dessert table.
I also added silver charges and white plates.  I forgot to take a picture with the entire table done, but to what you see here, I also added a light teal napkin with silver napkin ring and full silverware/glass settings.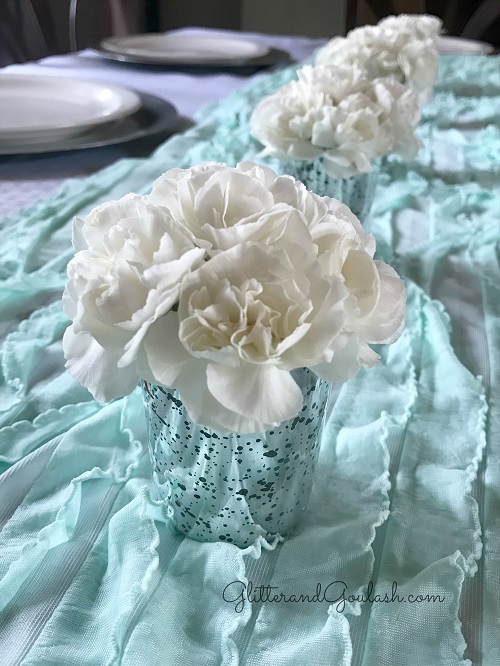 The vases I used on the dessert table are a very simple and cheap DIY project upcycling some old bottles.  See full DIY Vase Instrucions here to save some money on your next party.
No one will be able to tell that these are old beverage bottles.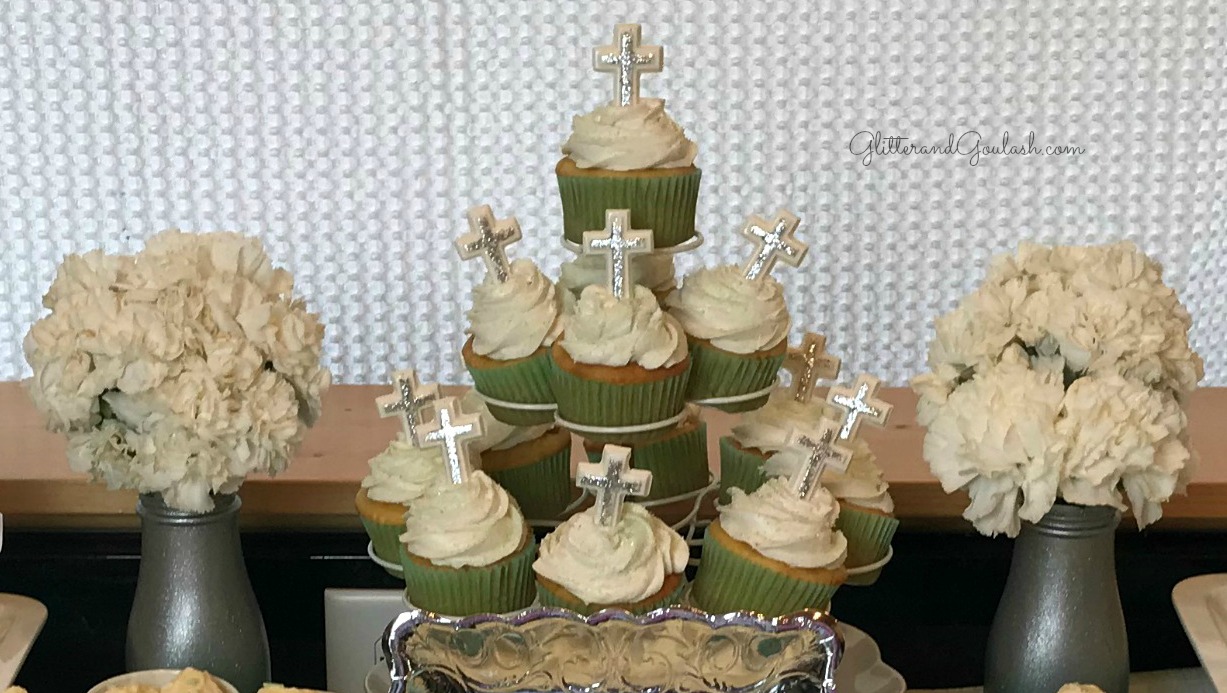 One last decoration that I added, was a simple little sign about Baptism. This was the last little "pop" that I needed to make this table and my daughters special day beautiful.
I made the sign out of one of the extra paper plates (that's right, this is a silver paper plate and not an actual frame) and some card stock and a printed bible verse. I used a little clear picture stand and placed it right in the middle of the table.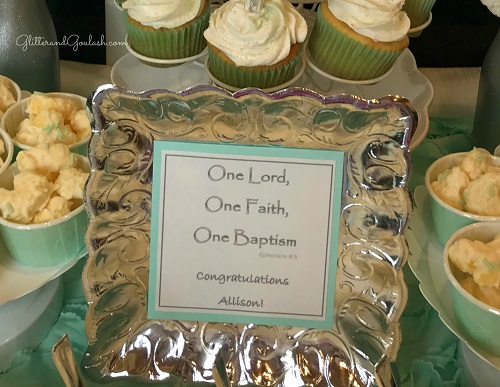 A wondeful day was had by all, filled with lots of yummy desserts, laughs and fellowship.
Congratulations my beautiful daughter, I am so proud of you!