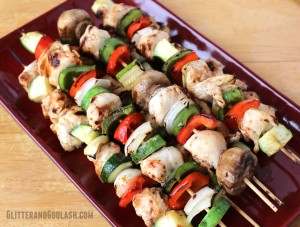 So tonight's temperature in central MN was around 40ish and was wet and drizzly.  Did that stop me from grilling though, no way!
When you have to have BBQ, you have to have BBQ, am I right?
Chicken Kabobs are always a quick and easy meal to throw on the grill. Minimal prep, with big rewards!  If you prefer beef, see the Beef Kabob version of this recipe as well.
For this fast and simple Kabob recipe, you will need skewers, peppers (red & green), onion, mushroom, zucchini, Italian dressing, and chicken.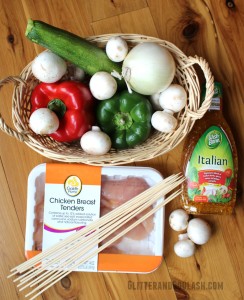 If you are using wooden skewers, the first thing that you will want to do is soak them in water for a minimum of  30 minutes.  This will prevent them from starting on fire once they go on the grill.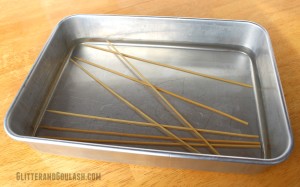 Next, you want to cut up your chicken.  You can use regular chicken breasts for this, but I prefer using the chicken breast tenders.  They are a little more expensive than the regular breast, but I think that they stay much moister when grilling than a regular breast. If you are using the tenders, I usually cut each one in half.
Take your cut up chicken and place in a Ziploc baggie.  Pour 1/3 – 1/2 the bottle of Italian dressing over the chicken.  Let marinate for 30-60 minutes.
While you are waiting for your chicken to marinate, you can start washing and cutting up your vegetables.  You can customize whatever vegetables your family likes for these kabobs.  The ones I have listed above are our family favorites, so that is what we use.
Make sure you cut your vegetables in fairly large chunks.  You want them to be big enough to stay on the skewer while grilling.  I try to go with pieces that are about 2 inches square.  Once they are all cut, and your chicken is marinated, it is time to start the grill.
If using a gas grill, try to maintain a temperature of around 350 degrees. You will also want to make sure that you wipe down your grill grates with a paper towel that has oil on it.  This will prevent your meat from sticking to the grill.  There is nothing worse than going to flip a beautiful sizzling kabob and it breaks apart because it is stuck to the grate 🙁
While your grill is heating, you can start assembling your kabobs.  There is no particular order these need to go in, I usually just alternate between vegetables and chicken for color an visual appeal.  Since I am the only one in my family that likes mushrooms, I have even been known to do a few skewers of only mushrooms for myself, yum!
Once assembled, place the kabobs on your preheated grill. Depending on how big you cut your meat portions, the kabobs will usually need about 5-7 minutes on each side. I always recommend checking for doneness with a meat thermometer.   For chicken, you want a minimum temperature of 165 degrees.
Once they are done, remove from grill and let sit, wrapped in aluminum foil for at least 5 minutes.  This will allow all of the natural juices to be reabsorbed into the meat.
Now, serve over a bed of steamy Basmati rice and a Berry Parfait or delicious salad and dinner is served!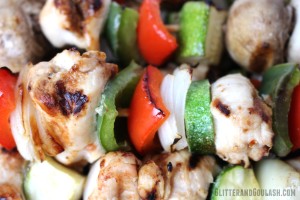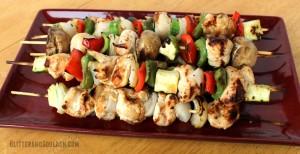 Grilled Chicken Kabobs: (serves 3- 4)
1 green pepper
1 red pepper
1 onion
1 small zucchini
1 package mushrooms
2 14 oz. packages Chicken Breast Tenders
1/3 – 1/2 bottle of Italian dressing
Wooden skewers
Soak wooden skewers in water for 30 minutes.  Cut up chicken and place in Ziploc baggie.  Pour Italian dressing over chicken and let marinate in refrigerator for 30-60 minutes.
Once marinated, take chicken out of refrigerator and start assembling the kabobs.  There is no order to these, I just try to alternate between vegetables and meat for appearance.
Grill approximately 5-7 minutes on each side.  Remove to pan and cover with aluminum foil.  Let rest 5 minutes, then serve!