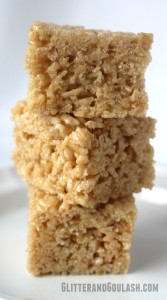 I know exactly what you are thinking…Rice Krispie Bars, c'mon how different can this recipe REALLY be, right? Well, the ooey, gooey, buttery proof is in the first bite.
The first time you make this recipe, your old recipe will quickly be introduced to the recycling bin!
This is by far the best Rice Krispie Bar I have ever had and the ONLY one I will ever make again! It is the perfect ratio between butter, marshmallow, and Rice Krispies….yum!
For these bars, you will need Kellogg's Rice Krispies, Kraft jet-puffed large marshmallows, butter, and vanilla.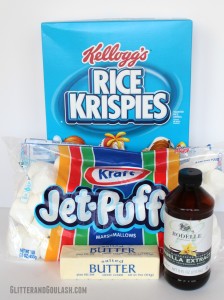 Start by melting exactly 50 large jet-puffed marshmallows and one stick of butter in a pan on low heat. Stirring frequently.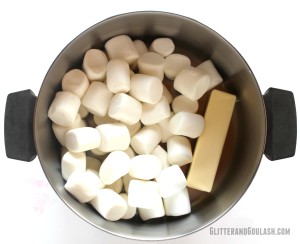 Once this has melted and is smooth, add vanilla and stir to combine.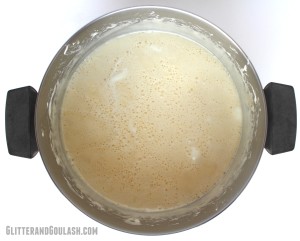 After adding the vanilla, add your Rice Krispies.  Stir the Rice Krispies until they are covered thoroughly with the marshmallow mixture.  Then, pour into a 9×13 greased pan and level out.
If you are feeding a large crowd with these or just like taller/thicker bars, make a second batch and place on top of the first batch.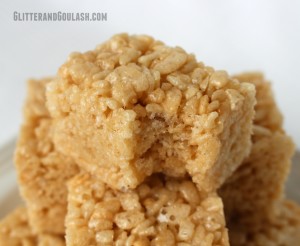 Most Delicious Rice Krispie Bars EVER!
50 Kraft Jet-Puffed large marshmallows
1/2 cup (1 stick) butter
6 cups Kellogg's Rice Krispies
1 teaspoon vanilla
Over low heat, melt marshmallows and butter in a pan. Once melted and smooth, add vanilla. Stir to combine.
Add Rice Krispies and stir until the cereal is thoroughly covered. Pour into a 9×13 greased pan and level out.
Cool, cut, and enjoy!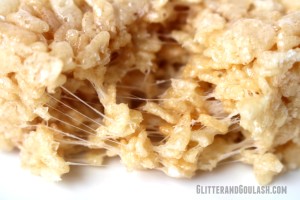 Extra Tip: Leveling the Rice Krispies once they are in the pan can be a sticky mess.  To help the process, add a little butter to the back of your spoon (or hand, that is what I use) and it will prevent the cereal from sticking and will lay nice and flat.
Also, you can dress these heavenly little morsels up a little if you will be serving them at a more formal type of party. Just dip them into some chocolate wafers and add a stick, beautiful!  See more pictures of these on my Purple and Silver Theme Dessert Table post.