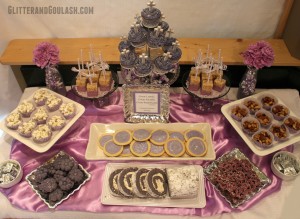 Over the weekend I had the immense privilege of watching my daughter get baptized.  After witnessing such a proud moment, there was only one thing left to do and that is to celebrate in fellowship with friends and family.
I chose a purple and silver color theme for her reception.  So here is a look at the dessert and snack table that I put together.
One of my favorite things to do when having a party is to coordinate the food that is served, with the color theme of the party.
I will provide recipes for all of this in the days to follow, but here is a breakdown of what was on the table.
Dessert/Snack Table:
First up is the Swiss Cake Roll.  This is a wonderful cake rolled in a cream cheese, powdered sugar, and Cool Whip mixture.  Delicious and stunning!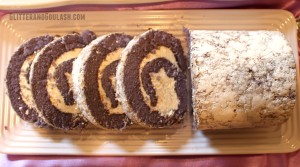 Next, is a Spritz Cookie decorated with disco dust (edible glitter) and violet Wilton icing color.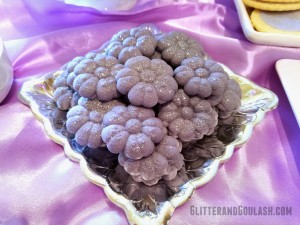 Then, a classic sugar cookie with a wonderful almond decorator frosting (using the same violet Wilton icing color).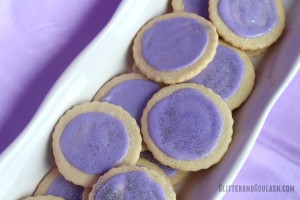 Also, some delicious Rice Krispie Bars dipped in chocolate and put on a stick…everything is better on a stick, right?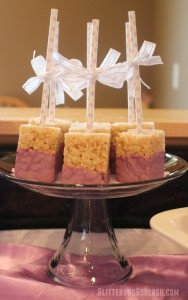 Now for a touch of sweet and salty…Cinnamon Sugar Glazed Nuts and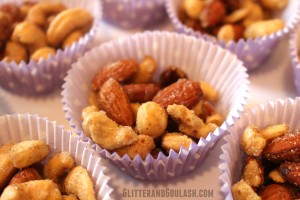 Chocolate covered pretzels,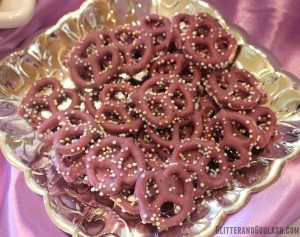 and Cake Batter Popcorn.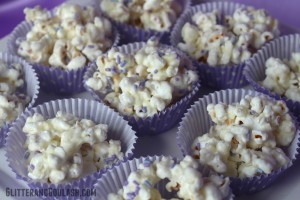 For the main centerpiece I made cupcakes, with a buttercream frosting, and a hand made chocolate cross topper. I wanted to make purple velvet cupcakes (the same as my Green Velvet Cake, just with purple coloring added instead) to match the theme, but per the request of my daughter the cupcakes were a boxed strawberry flavor. It was her day, so who was I to deny her?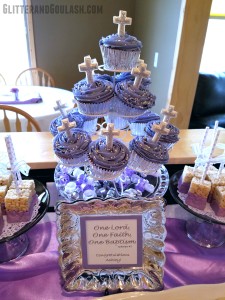 Decorations:
This plaque was a classic case of using what you have laying around to make a beautiful and inexpensive focal point for a table.
I took one of the paper plates that I bought at Hobby Lobby for the party (that's right, this frame is actually a paper plate), printed out a verse on baptism on my computer, mounted it on matching purple card stock and glued it to the plate….beautiful!!!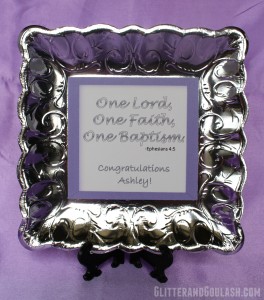 Fresh flowers always add a touch of beauty to a table.  For the vase, I took some bottles that I have saved (this particular one is a Starbucks frappuccino bottle) and painted them metallic silver. I added some curly ribbon and viola!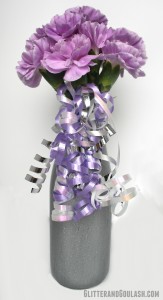 Tables:
For the tables I used a basic white tablecloth with some purple fabric as a runner.  I added multiple arrangements of purple daisies in silver votives down the middle of the runner.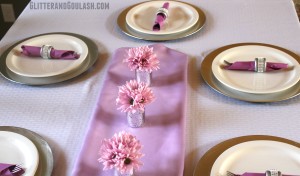 I also added some silver chargers, white plates, and silverware wrapped in a purple napkin with a silver "blinged" out napkin ring that I made.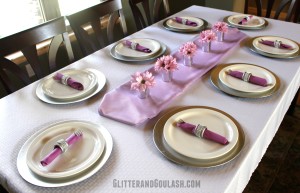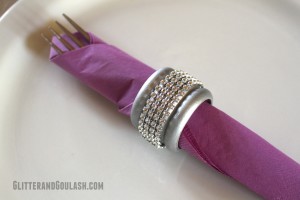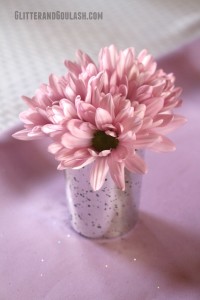 It was a beautiful day to spend with friends and family celebrating such a wonderful milestone in our daughter's life!!