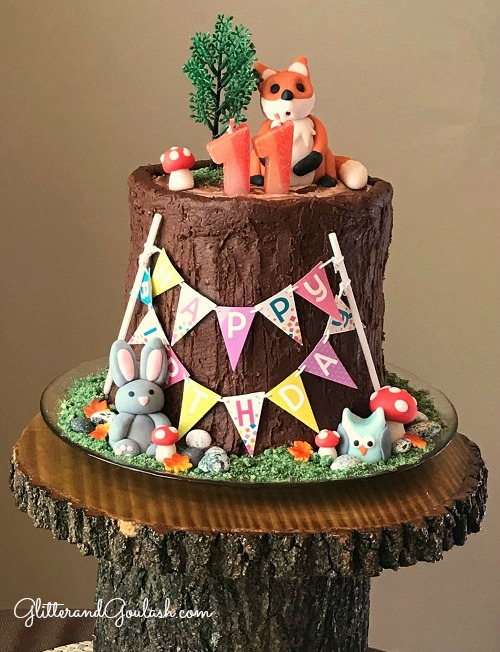 This year for my youngest daughter's birthday, she wanted to have a "Woodland Friends Party".  Since her birthday is in October, she also wanted to incorporate the fall colors and leaves into the decorations.  Yes, for 11, she certainly knows what she wants and what she doesn't want:-)
I must say that this was one of my favorite parties that I have decorated and cooked for.  Having two girls, our parties pretty consistently have a very feminine color scheme to them and sometimes it gets hard to think of new ideas.
This year however, it was time to embrace the woods and all of the beautiful colors and creatures that come with it in the fall.
To start things out, I knew that I wanted to have some wood serving platters and cake stands.  As I was looking in the stores for these, I couldn't believe how outrageously expensive they were.  I was lucky enough to come across a local person that advertises on facebook for cutting wood slabs.
I had him cut some wood "coins" as he called them, and some stumps for me.  Then, my husband sanded, stained, and attached them for me.  I was very pleased with how they turned out and for a fraction of the price that the stores cost for the same product. So, if you are thinking of using platters similar to these, I strongly urge you to check out local people in your town to see if anyone does wood cuttings like this.
Here is an overall picture of the dessert table.  I apologize for the lack of quality of the picture, we have a wall of windows behind this table and I had to quick snap a picture before guests came and the food started dissappearing.
I started staging the dessert table with two wooden pallet boards that I had from a local craft store.  Next, I layered a roll of sheet moss (also bought at a local craft store) on top.  This gave me the forest grass feel that I was going for, it looked very realistic.
I used my wooden serving plates to display all of my food on and added some fall leaves, acorns and pinecones for the finishing touches. I also made cute little food labels from card stock and some Woodland Friend stickers that I found at Hobby Lobby.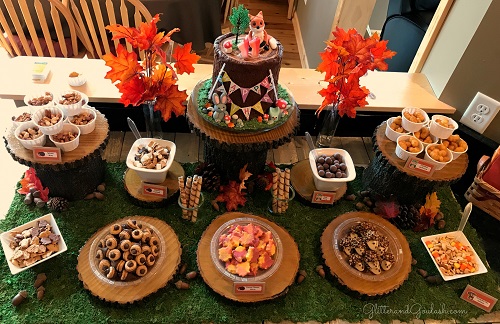 Since I wanted to keep with the Woodland Friends and fall theme, I tried to pick desserts that would let me incorporate the theme into the presentation. I first started with some good old fashion  Cream Cheese Mints.  This recipe has been a tried and true favorite over the years and allows you to use any coloring and mold for a customized look.  These are a great option when you are going with a particular theme and/or color pallet.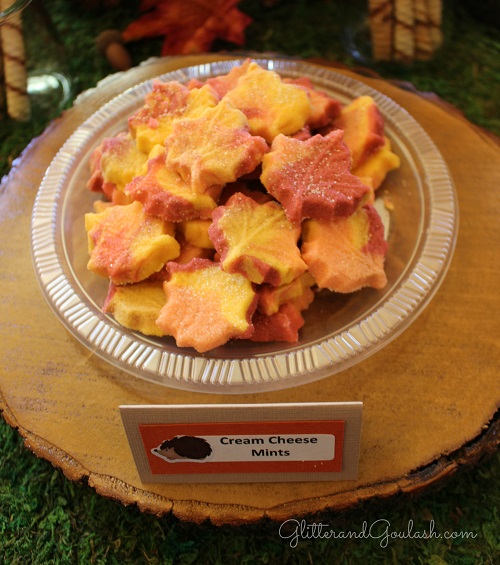 Next up are these adorable Autumn Acorn Cookies. They are super quick and easy to make and can be made days in advance which is always a bonus when you are preparing for a party. They are made up of mini Nutter Butter cookies, Hershey Kisses, and chocolate chips.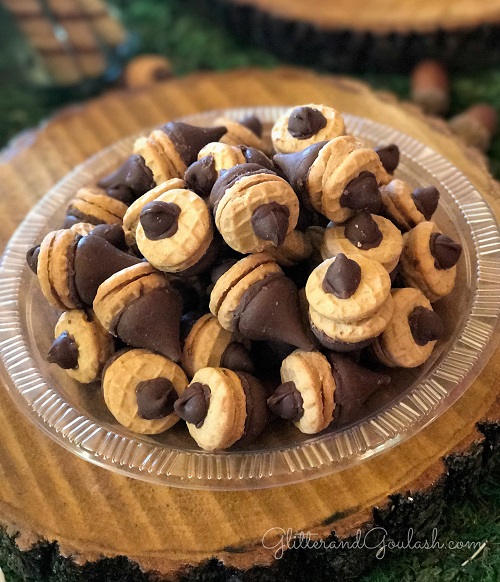 My daughter is a huge fan of anything s'mores flavored.  So of course, we had to make her one of her favorite trail mixes…S'Mores Trail Mix. Talk about easy.  Mix together equal parts of chocolate chips, mini marshmallows and Golden Grahams cereal.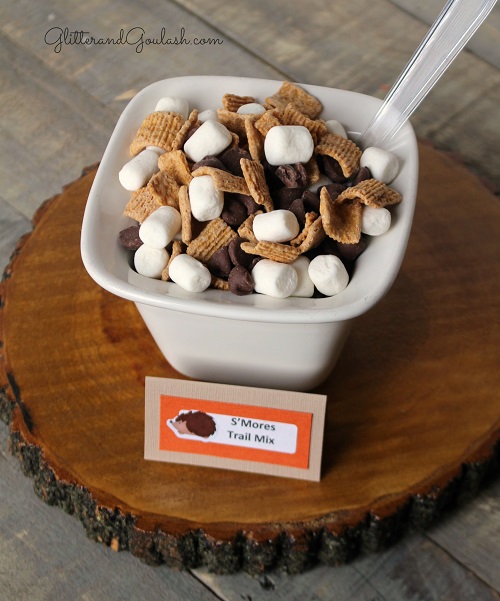 I needed a few more little fillers for the table, but was running short on time, so I grabbed some store bought ready made munchies.  This "deer poop" was made up of Whoppers candy.  You could also use the chocolate covered nuts or acai berries for the same effect.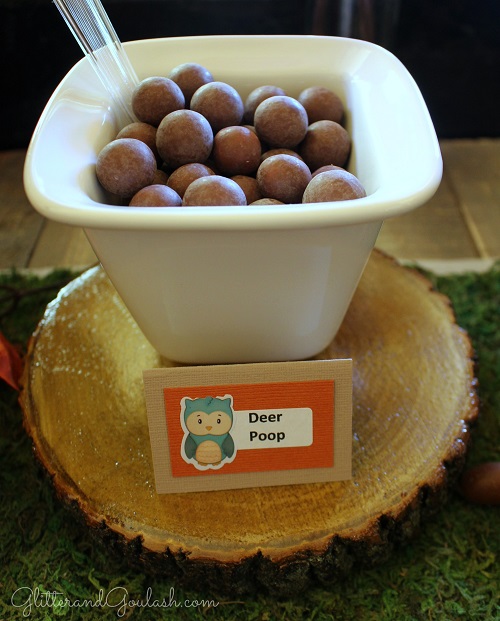 I also bought some Annie's bunny shaped crackers in assorted flavors and made a super quick and easy Candy Corn and Peanut snack mix.  This is made with equal parts of candy corn and cocktail peanuts.  This is one of our families favorite fall snacks.  It tastes just like a salted nut roll when you eat the candy corn and peanuts together.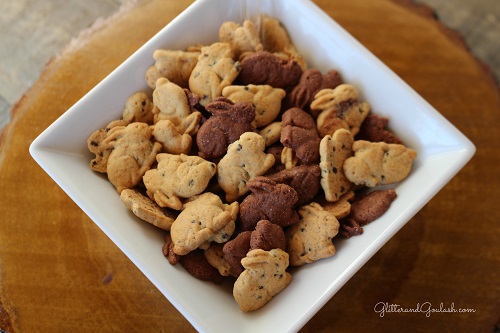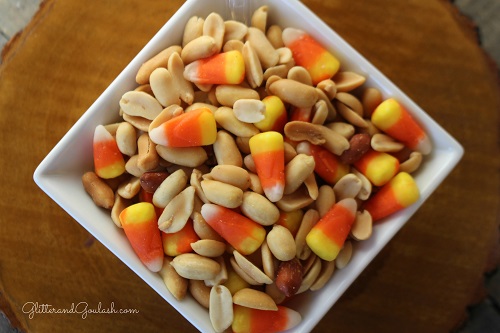 Another one of my daughters favorites is Cinnamon Suger Glazed Nuts. I took this basic recipe and added a few extra fall spices to stick with the fall theme.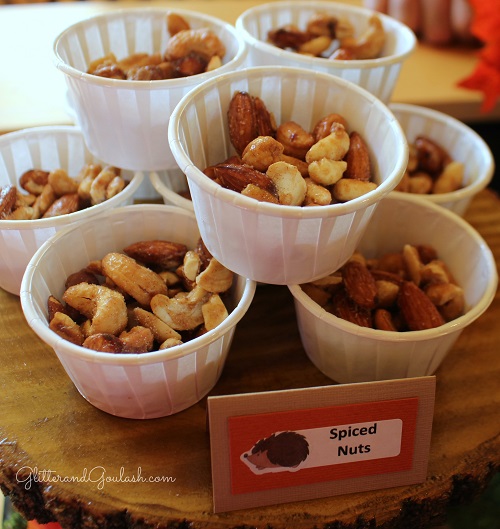 I must admit that I snuck one of my own guilty pleasures onto the dessert table as well, and that is Caramel Puffcorn.  If you have never made this, you must!!!  You simply buy the Old Dutch Puffcorn (recipe is on the back of the bag) and bake it with a brown sugar/butter mixture that is super easy.  YUM!!!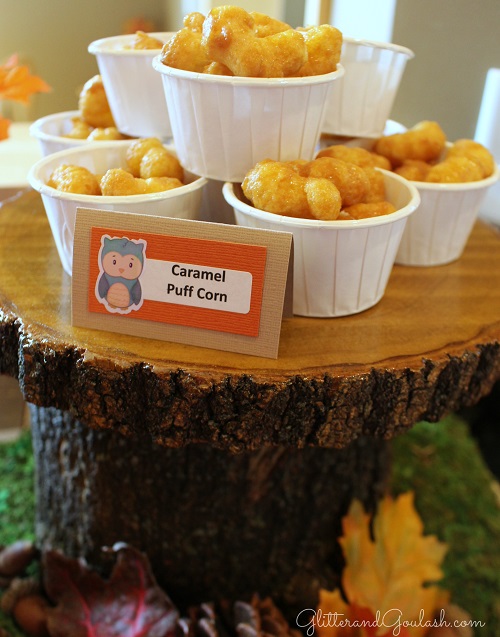 I also made some of these adorable little hedghog cookies.  You can use any basic butter or spritz cookie recipe and shape them into hedgehogs.  Once baked, dip the back side into chocolate and top with pecan chips.  Add a a few chocolate drops for the eyes and nose and you have yourself some delicious little hedgehogs.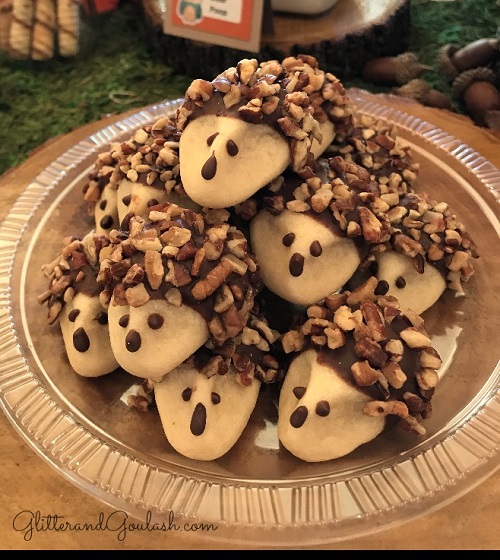 Although this Hedgehog Cheeseball was not on the dessert table, it was served with lunch and everyone loved it.  Simply take your favorite cheeseball recipe, shape it into a hedgehog, cover with crushed Ritz crackers and top with slivered almonds.  Don't forget the black olive eyes and nose.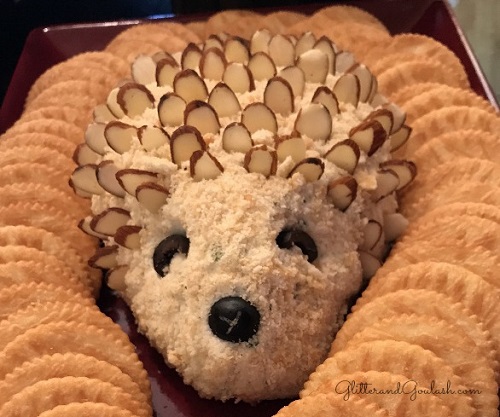 These fun little Mushroom Capreses were also served with lunch.  They are simply made of string cheese (cut into thirds) with a half of cherry tomato on top held together with a toothpick and placed on top of a bed of fresh basil leaves.  I added a bowl of balsamic vineger next to it for dipping into.
As you can see I had a little trouble getting them to stand up, but that mainly had to do with the fact that I was rushing and not cutting them very evenly.  So, if you make these, make sure that you are making as straight of cuts as possible and I am sure you won't have a problem getting them to stand.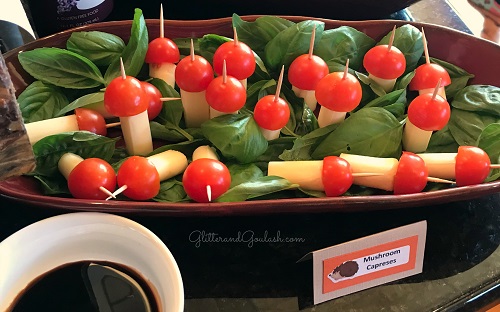 For my tables, I added this beautiful Autumn Barn Wood Centerpiece on top of brown tableclothes. I also added some Woodland Friends confetti that I found at Hobby Lobby around it to tie into our Woodland Friends Party theme.
This centerpiece was awesome…I was able to leave them up after the party and use them for the rest of the fall season and Thanksgiving. I LOVE multipurpose decorations!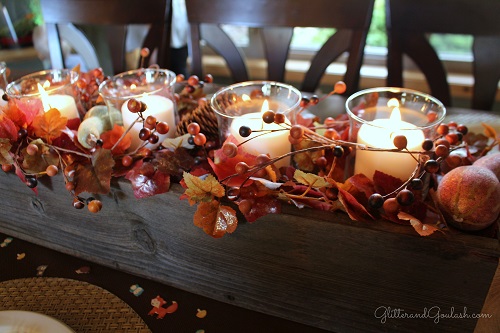 One last item to mention under the dessert catgegory is the birthday cake.  I am by no means a professional baker, I am a total "wanna be" cake designer.
I started making cakes for my girls birthday parties when they were born.  Now, it has become a birthday tradtition that my girls look forward to.  They don't care that some things are cracked, sagging or just not "perfect" because they know that I made it with love.  At least, that is what I tell myself when they don't turn out as well as I had liked 🙂
This was my attempt at a Woodland Friends birthday cake.  It was a delicious Chocolate Cake with chocolate fudge buttercream.  I used three small six inch round baking pans and stacked them to make them look like a tree stump.
I added fondant animals and mushrooms, chocolate rocks, Wilton sugar leaves and lastly "grass" that was simply crushed up graham crackers and green food coloring.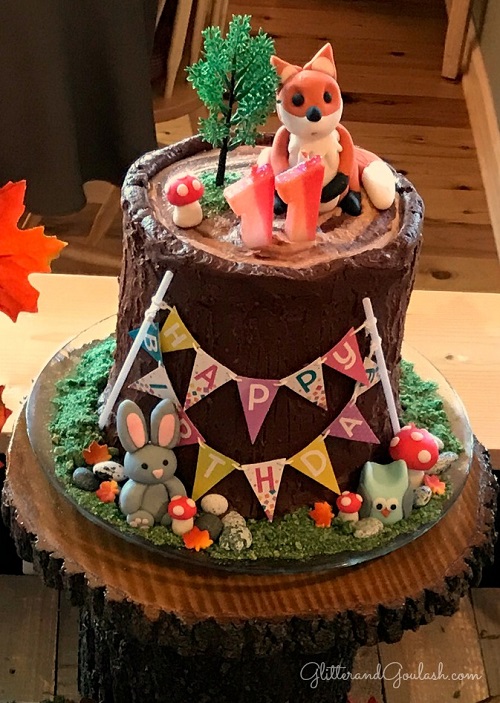 Now that we have taken care of the dessert portion of the menu, let's look at the main meal.  My daughter has the exact same menu almost every year…soup, sandwich and salad buffet.  She is a soup girl through and through.  Maybe it is our Minnesota roots that make soup one of our fall favorites.
Her 3 favortie soups are Chicken Wild Rice , Chicken Tortilla and Cheeseburger Soup.  These can all be made 2 days prior and they actually taste better when made in advance.  Then simply throw in the crockpot and heat them up.
Serve with saltine crackers, oyster crackers, shredded cheese, sour cream and tortilla strips on the side.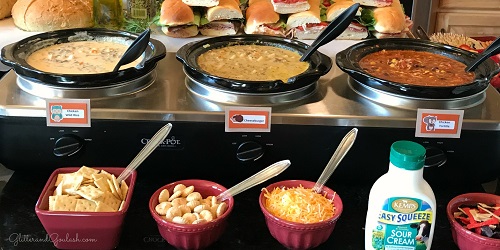 You can't have a warm bowl of soup without some delicious bread to dip in it.  I added some Rosemary Bread and Quick Beer Bread to the buffet.  I served them with a side of butter for the beer bread and a dipping oil (olive oil and fresh cracked peppercorn) for the Rosemary Bread. These did not last long on the table…delicious!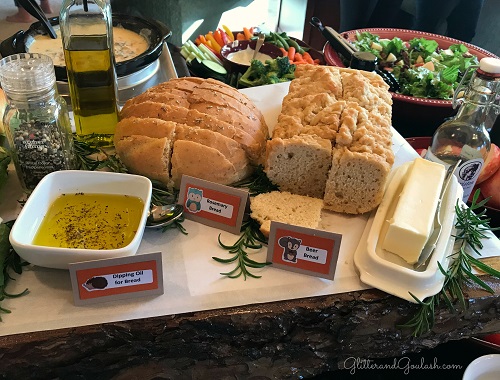 Next, we have the sandwiches.  I bought some Jimmy John's bread and made a variety of sandwiches.  There was a choice of Italian, Turkey or Roast Beef.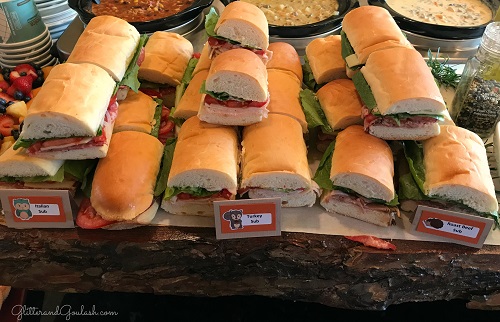 Another favorite that just HAD TO be part of the menu was homeade caramel dip and apples. I make the caramel sauce several days in advance and keep in an airtight jar in the refrigerator.  I scoop some into a dip warmer several hours before the party and it is oooey gooey ready to go when the guests arrive.
Apples can also be pre-sliced.  Simply cut them and let them soak in lemon lime soda, orange juice or any liquid with some ascorbic acid in it.  This will prevent the apples from turning brown.  I wouldn't do this too early in the day though.  Maybe 15-30 minutes before guests are due to arrive.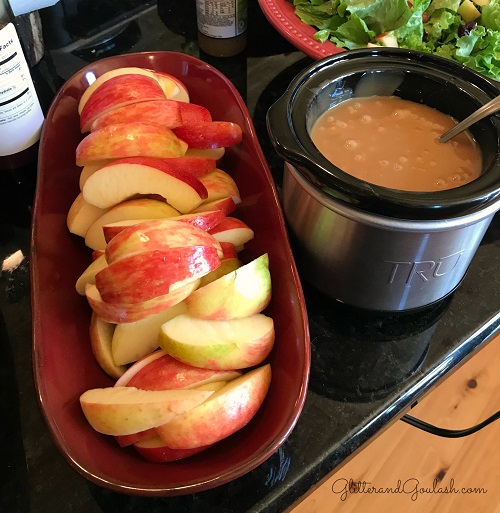 Three other sides that were on the buffet were Apple Walnut Cranberry Salad,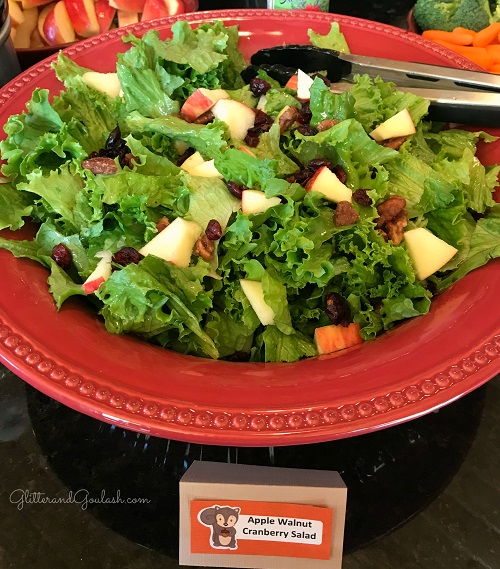 fresh fruit
and of course, a fresh veggie platter with the all important ranch dip.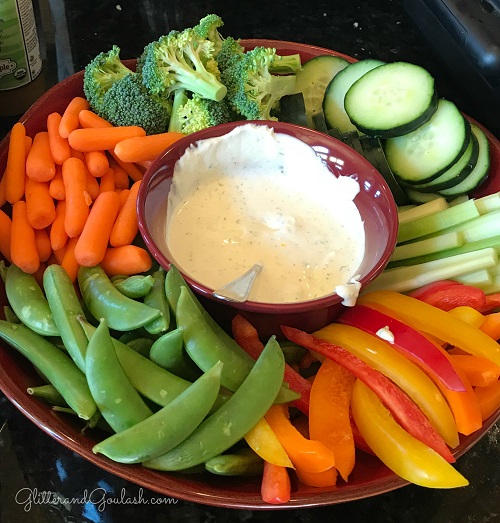 There you have it, I hope this gave you some ideas for your Woodland Friends Party!  I am always looking for new creative ideas, so if you have had this themed party and would like to share some of your pictures, I would love to see them in the comments.
If you would like to see more information on any of these items in this post, simply click on the blue colored links for full recipes and instructions.  Those that do not have a link yet, will be coming shortly.
Side Note…if you choose to have these wooden plates custom made, I would not recommend placing the food directly on the wood.  Since we stained these ourselves, I used clear plastic plates to place the actual food on, then placed the plates on the wood.