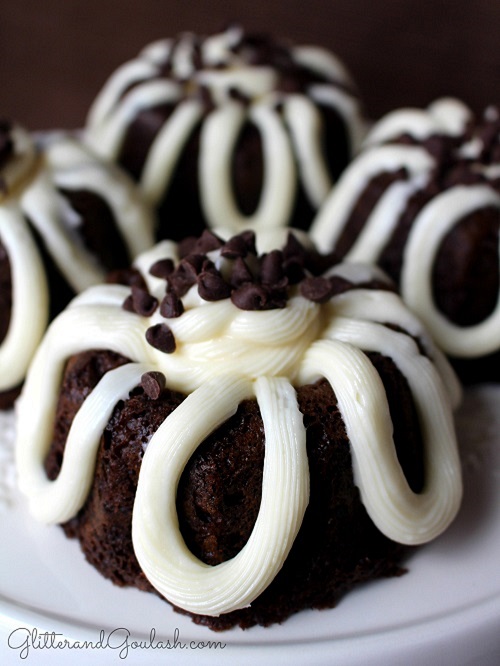 I LOVE Chocolate Bundt Cake!! My family and I went to an outdoor concert last spring where we discovered the joy of bundt cakes for the first time.  There was a food vendor set up at this concert (Nothing Bundt Cakes) and I must say that the second that that cake hit my mouth, a very serious addiction began. From that day forward, I have often thought about that delicious bundt cake and wondered if I would ever be able to have one that delicious again.
Since that day, I have searched for a recipe that would even come close to the bundt cake that I had last spring. I think that I have finally found one that gives the franchise recipe a run for its money. This recipe gives you a bundt cake that is extremely moist, dense, and loaded with an overload of chocolate flavor. This recipe will not dissappoint!
For this Chocolate Bundt Cake, you will need chocolate cake mix, instant chocolate pudding, sour cream, eggs, water, oil, and mini chocolate chips.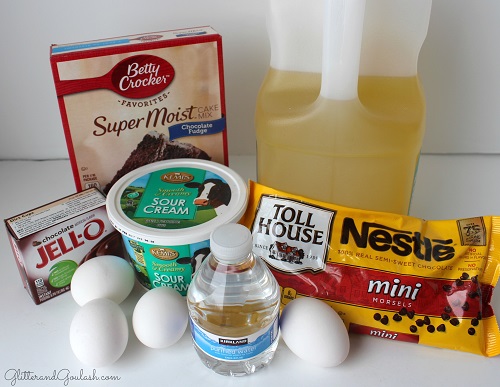 Combine the cake mix, pudding, sour cream, eggs, water and oil into a mixing bowl.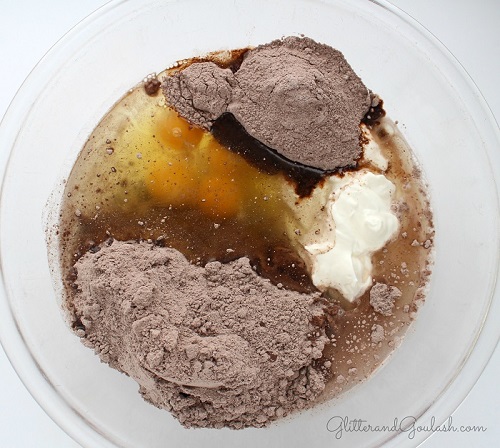 Once the mixture is completely combined, add your chocolate chips and stir.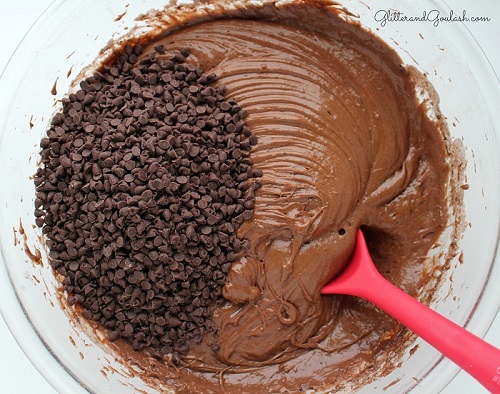 Next, spray your bundt pans with cooking spray and fill them 2/3 full.  In this particular picture, you can see that I filled these tins with a little too much batter. It isn't the end of the world if that happens, your batter will just rise over the top of  the tin and you will need to trim them once they are cooled.
Truth be told, my daughters (and I) actually like it when I overfill the tins because the part that I trim off, (the muffin top, if you will) is their favorite part of the cake. I must admit that sometimes I add frosting to the part I trim off, fold it in half, and have a bundt cake and frosting sandwhich…oh my…yum!!!
Bake your cakes for 15-18 minutes at 350 degrees.  If you are using a large bundt pan instead of the mini ones, bake for 45-50 minutes.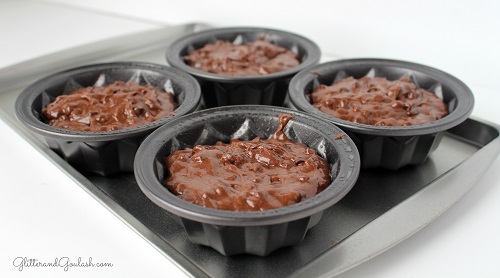 This recipe will make 1 regular size bundt cake or 10 mini bundt cakes. I prefer to make the mini bundt cakes for several reasons.  First, I think a mini bundt cake is just simply adorable and secondly, since we are only a family of four, an entire bundt cake would be just to much for us.  When I make the minis,  I can freeze the extra ones for when company drops in, or simply for when I need a quick dessert.
Since I only have 8 mini bundt pans, I take the left over batter and put them into mini muffin tins.  I bake these and then frost and freeze them.  I use them for desserts in my daughters lunches.  They are super easy to pull out of the freezer in the morning and they are thawed by lunch time. They are the perfect size for a school lunch dessert.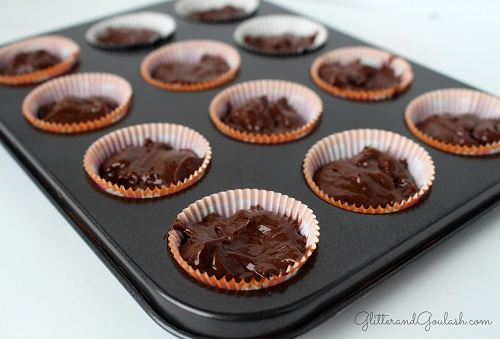 While the cakes are baking, it is time to make your frosting.  This cream cheese frosting is a perfect pair of richness to the chocolatey cake. To make it you will need cream cheese, butter, powdered sugar and vanilla extract.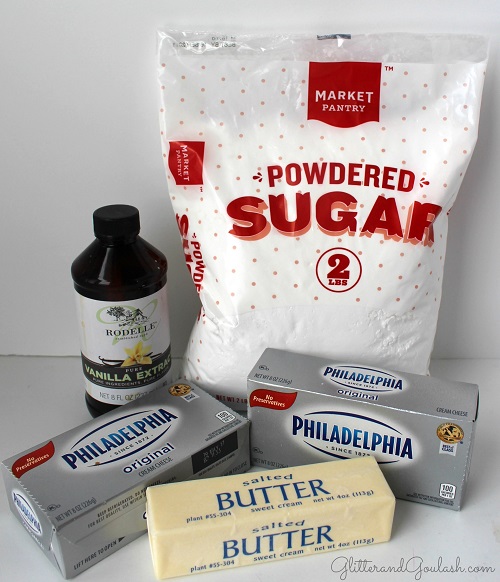 In a bowl, cream together cream cheese and butter until creamy.  Mix in the vanilla, then gradually add the powdered sugar one cup at a time.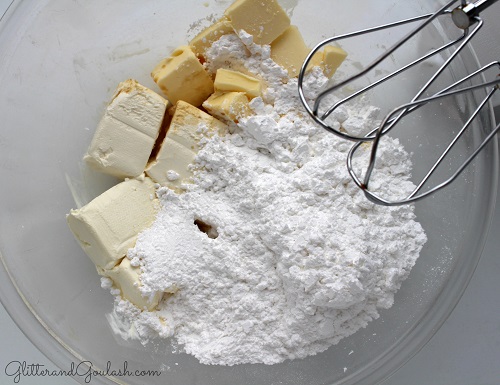 Beat the frosting until it is light and fluffy. Then, add to a pastry bag.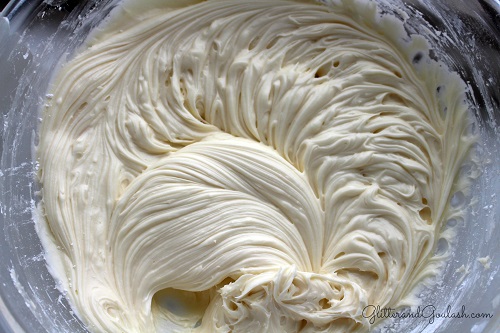 Once these cakes are done, remove from oven and let cool 15-20 minutes in the pan. Then, remove the cakes from the pans and put them on a cooling rack until cooled completely.  Once the cakes are completely cooled, cover them and wrap in plastic wrap and refrigerate overnight.  You can certainly eat these the same day, but by letting them get chilled and sit overnight, the flavors REALLY intensify.  Just make sure that you pull the bundt cakes out at least 30 minutes prior to serving them so that they can come back to room temperature before eating them.
You can frost these cakes either before or after your refrigerate them.  If you frost them before refrigerating, just make sure that they are completely cooled or your frosting will melt right off of them.
When it comes time to frosting the cakes, you can frost the bundt cakes with any design you like.  I usually like to do loops around the cake with a small pool of frosting in the middle.  This will make sure you get a bite of frosting with every bite. I also like to top with mini chocolate chips to give it a finished look. If you wanted to decorate for certain holiday, you could go one step further and add a light layer of sprinkles to the frosting.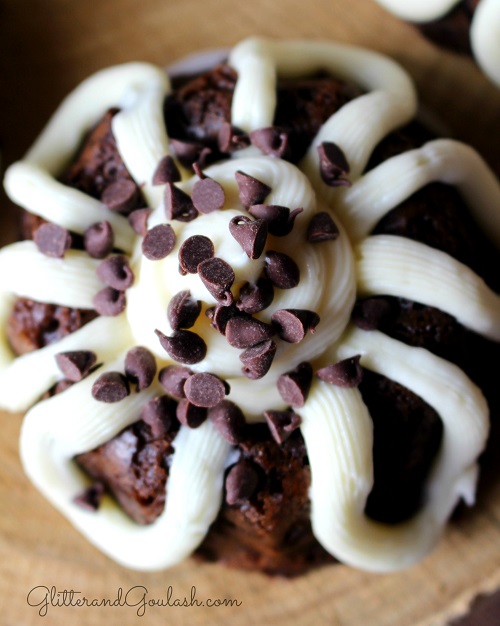 Once you try these amazingly moist, rich and decadant bundt cakes, you will be hooked just like me!!!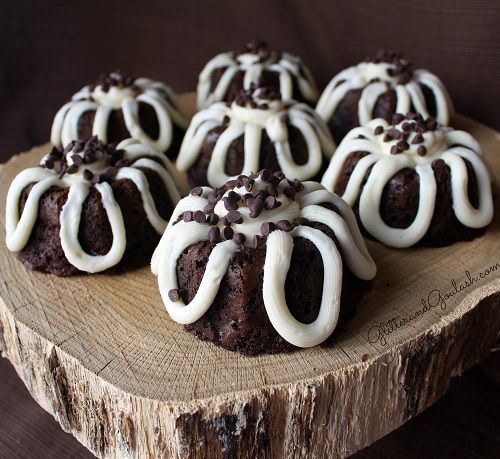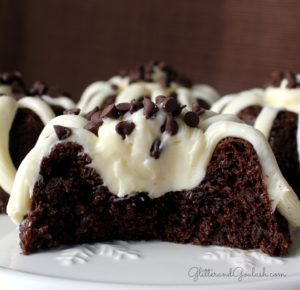 Mini Chocolate Bundt Cake
Author:
Glitter and Goulash - Julie
Ingredients
Chocolate Bundt Cake:
1 box of chocolate cake mix (can also use devils food or German chocolate)
1 small box (3.9 oz.) of instant chocolate pudding
1 cup sour cream
4 large eggs
½ cup water
½ cup oil
1 10 ounce bag of mini chocolate chips (1½ cups)
Cream Cheese Frosting:
16 oz. (2 boxes) cream cheese, softened
½ cup butter, softened
4 cups powdered sugar
2 teaspoons vanilla extract
Instructions
Chocolate Bundt Cake:
Mix the first seven ingredients together. Then, add chocolate chips and stir until completely incorporated.
Pour batter into a greased bundt pan (or 10 mini bundt pans). Cooking spray works the best.
Bake at 350 degrees for 45-50 minutes (15-18 for mini bundt cakes).
Remove from oven and let cool in the pan for 20 minutes (or 10 minutes for minis).
Remove from the pan(s) and move to a cooling rack.
Once the cake(s) is/are completely cooled, wrap in plastic wrap and refrigerate overnight. You can frost them now, or wait until just before you serve them.
Allow cake(s) to sit at room temperature for at least 30 minutes before serving.
Cream Cheese Frosting:
In a medium bowl, cream together the cream cheese and butter until creamy.
Add vanilla and stir until combined.
Gradually stir in the powdered sugar.
Place frosting in a patry bag and apply to completely cooled cake(s), If you choose to wait to frost them, then refrigerate frosting until ready to use.