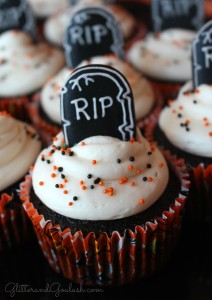 This Black Forest Cake recipe is an old family recipe.  I remember growing up with these and begging to have one once they were cool enough to eat. I was never allowed one until after dinner of course, but I had to at least try just in case today would be my lucky day.
These cupcakes have a secret ingredient in them that gives them a depth of flavor that is not found in most cupcakes and cakes.  This secret ingredient also gives the cake it's signature black color. Can you guess it? The secret ingredient is coffee. That's right, coffee!
The coffee gives these cupcakes a wonderful flavor, not to mention makes them incredibly moist. When you top them with delicious Cream Cheese Frosting, it is hard to stop at just one.  The color of these Black Forest Cupcakes also make them a festive treat for Halloween.
The items that you need for these cupcakes are flour, sugar, cocoa, salt, soda, vegetable oil, egg, sour milk (instructions below), vanilla, and black coffee.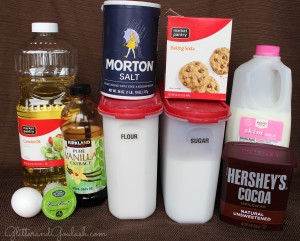 Sour milk is a pretty common term used in old recipes.  You can make this by adding 1 tablespoon of vinegar or lemon juice to a measuring cup, then add enough milk to give you one cup and stir.  Let the milk mixture sit for 10-15 minutes or until you can see the milk begin curdling slightly.  Once you see this, it is ready to be used in your recipe.
Start your batter by mixing all of the dry ingredients together in a large bowl. Then add oil, egg, sour milk, and vanilla.  Mix well and add boiling hot strong coffee.
Once your mixture is combined, drop into cupcake liners and bake at 350 degrees for approximately 12-20 minutes.  Each oven is a little different so start checking them around the 10 minute mark so that they do not burn and then increase bake time as needed.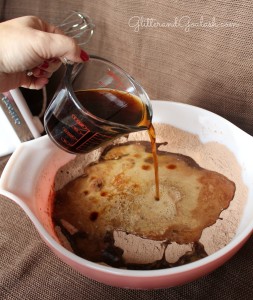 When your cupcakes are done baking and completely cooled, frost with Cream Cheese Frosting and add whatever decorations you like.  In honor of Halloween, I have added some black and orange sprinkles and a festive edible "R.I.P" tombstone that I found at Wal Mart.
This is a truly spooky and delicious treat to add to your child's school lunch.  Or simply serve them as a festive dessert before you head out trick or treating on Halloween.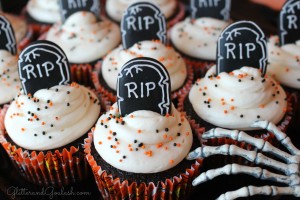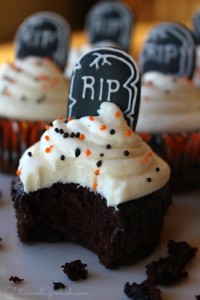 Extra Tip:  This recipe can also be made as a cake.  Simply add your batter to a 9×13 cake pan and bake for 40 minutes.
Super Moist Black Forest Cake With Cream Cheese Frosting
Author:
Glitter and Goulash
Recipe type:
Cupcake/Cake
Ingredients
2 cups flour
1¾ cup sugar
½ cup cocoa
½ teaspoon salt
2 teaspoons soda
⅔ cup vegetable oil
1 egg
1 cup sour milk (see instructions below)
1 teaspoon vanilla
1 cup black coffee
Instructions
Mix all dry ingredients together.
Add oil, egg, milk, and vanilla. Mix well.
Add boiling hot strong coffee and mix just until thoroughly combined.
Add to cupcake liners and bake 12-20 minutes at 350 degrees.
Once baked, remove from oven and allow to cool completely.
Once cooled, top with Cream Cheese Frosting.