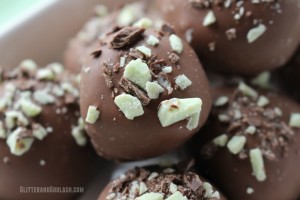 Mint Oreos~yum, right?  Well, try adding cream cheese and chocolate to these wonderful cookies and discover Oreos on an entirely new level!
Turning Oreos into truffles…complete brilliance!!!
The ingredients for this recipe are very minimal.  The ingredients needed are mint Oreos, cream cheese, chocolate for melting (chocolate chips, chocolate melting wafers, or any melting chocolate).
Place Oreos (cookie and filling) in a food processor or blender and pulse until you end up with fine crumbs.  It works best (at least in my old blender) to work in 3-4 smaller batches of cookies rather than dumping the entire package in.  Place your Oreo crumbs into a bowl.
Add softened cream cheese to your crumb mixture and mix thoroughly.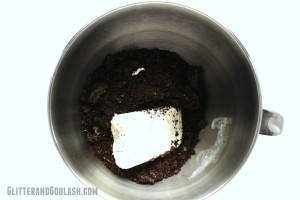 After mixing, you will end up with a sticky and thick mixture like this.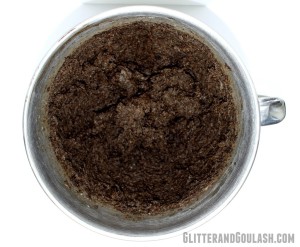 Using your hands, roll mixture into little balls.  I find it best to use a scoop (I used a 1 3/4 inch) to make your balls.  This will give you a batch of truffles that all look similar in size.
Place balls onto a parchment lined baking sheet.  Freeze for 30 minutes. This is the most critical step of making these truffles.  The balls must be chilled before dipping.  If they are not chilled, the dough actually breaks down in the chocolate and you end up with a gritty gooey mess.
Using a 1 3/4 inch scoop will produce approximately 24 truffles.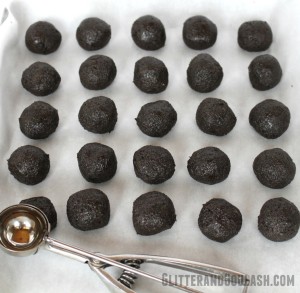 Before taking the balls out of the freezer, start melting your chocolate.  I used regular chocolate chips for this batch, but have also used Wilton chocolate wafers.  They both work fine, I think that the wafers however, give you a smoother finished product so I prefer to use those.
If you are making these truffles for gifts or a formal party, I would recommend using a higher quality baking chocolate. You can find it by the chocolate chips in the baking isle of your local grocery store. I am typically making these for a group of kids (myself and husband included :-)), so I find the cheaper chocolate works just fine.
Once your chocolate is melted, take a couple balls out of the freezer.  You want to work in small batches so that the remaining balls stayed chilled.
Drop one ball at a time into the middle of your melted chocolate.
With a fork, pick up the ball and tap fork on the side of your bowl to shake off excess chocolate.
Place dipped ball onto a parchment lined cookie sheet. If you choose to put some sort of decoration on top, now is the time to do it.  I like to use crushed Andes mints.  You could also use mint baking chips as well.
Place truffles in refrigerator for at least 10 minutes to set the chocolate.  Once chilled, break off extra drizzles of chocolate on the sides and place in an airtight container.
These truffles can be kept in an airtight container for up to 5 days in the refrigerator.  They should always be served chilled as they soften as they warm. Enjoy!
Looking for other green, minty or St. Patrick's Day desserts? Check out all of my recipes here.