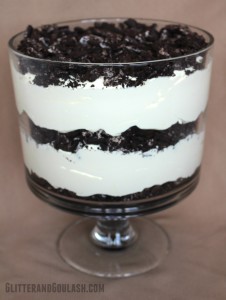 Say hello to your new favorite dessert!
This trifle is packed with Oreos, cream cheese, vanilla pudding and cool whip. It is quick and easy to make and is always a crowd pleaser.  It can even be made the day before if time is an issue.
I have actually had people tell me that they wanted this for Christmas instead of a gift, that is how good it is!
For this Oreo trifle, you will need Oreos, instant vanilla pudding, milk, cream cheese, and cool whip.  You will also need a trifle bowl (or see plastic cup option below).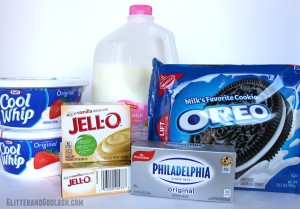 The first thing that you want to do is put the entire container of Oreo cookies into a ziploc baggie and crush with a rolling pin.  Set aside.
Next, add your milk to the pudding mixture and beat until thick, set aside.  Then, you want to beat your softened cream cheese until smooth.
Lastly, add your pudding mixture to the cream cheese and beat together until combined.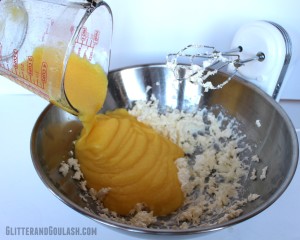 Once that is thoroughly combined, add your cool whip.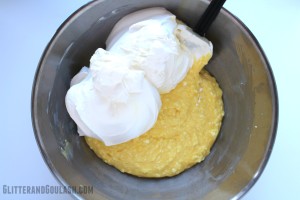 Fold Cool Whip into pudding and cream cheese mixture until well combined.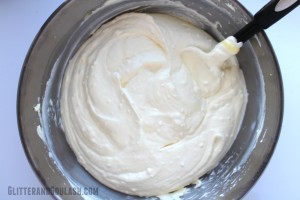 Once you are finished folding in the Cool Whip in, you are ready to start layering your cookies and pudding.
This trifle will be constructed of three layers of Oreos (start and finish with an Oreo layer) and two layers of your pudding mixture.
One package of Oreos will give you approximately 3 cups of crushed cookie. You will want to use approximately 1 cup of cookies per layer.  So start your trifle by putting 1 cup of crushed Oreos on the bottom of your bowl.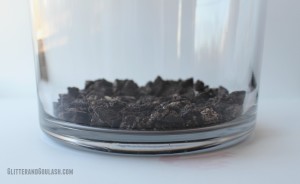 Next, put half of your pudding mixture on top of your first layer of crushed Oreos.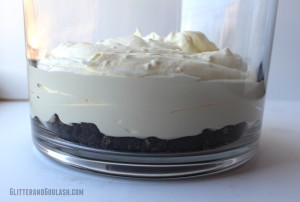 Then, add your second row of Oreos (1 cup).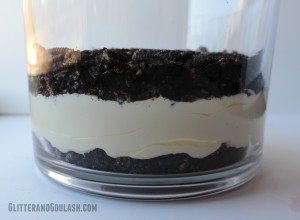 Followed by your second half of pudding mixture.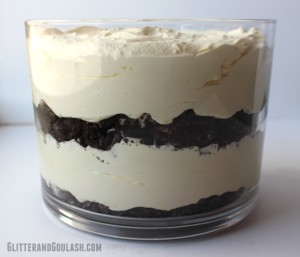 And your third, and last layer of Oreos.
Put in refrigerator to chill for at least one hour.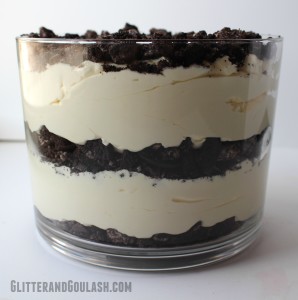 Extra Tip:  If you do not have a trifle bowl, simply layer your cookies and pudding in clear mini (5 oz) plastic cups. Displaying your trifle in these cups gives a stunning presentation.
I especially like to serve the Oreo Trifle this way for parties that have black as part of the color theme.  See my Black & Red Dessert table.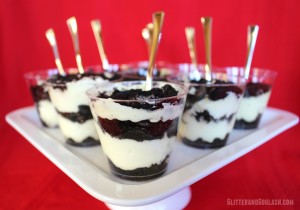 Oreo Cookie Trifle:
1 package Oreo cookies, crushed
2 small packages of vanilla instant pudding
3 cups milk
8 oz. package cream cheese, softened
16 oz. Cool Whip, thawed
Place Oreo cookies in a Ziploc baggie and crush, set aside.
Beat until thick, the pudding and milk, set aside.  In a separate bowl, beat the cream cheese until smooth. Then, beat cream cheese and pudding mixture together. Fold in Cool Whip.
Layer the pudding mixture and Oreo cookies in a large glass bowl, starting and ending with the Oreo cookies.