Taco Dip is always a crowd pleaser!
This is one of my "go to" appetizers for parties, pot lucks, or any gathering where there will be some munching going on.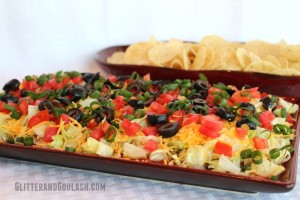 This is a quick appetizer to pull together.  Many times I will prep the base the day before and add the toppings the day of. Doesn't get easier than that!
For this Taco Dip you will need cream cheese, sour cream, taco seasoning, salsa, lettuce, shredded cheese, black olives, green onions, and tomato.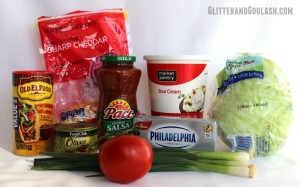 First beat together cream cheese, sour cream, and
taco seasoning mix
until thoroughly combined and creamy.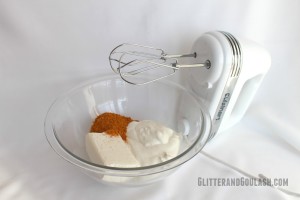 The salsa can cause some leaking off to the sides, so it is a good idea to use a serving dish that has a raised edge to it.  This will contain any excess liquid and prevent spilling over the sides.
 If you are making this dip the day before, at this point you would cover and refrigerate it.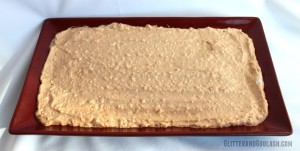 On the day you are ready to serve the dip, add your salsa layer. Feel free to use your favorite variety of salsa, any will do!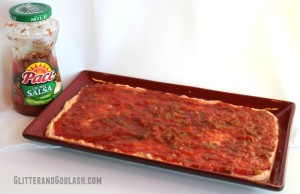 Lastly add toppings.  I start with a layer of finely shredded lettuce (make sure your lettuce is thoroughly dried), followed by shredded cheese, tomato, black olives, and lastly green onions.
Feel free to add or take off ingredients that you like/ don't like.  This dip is very easy to customize to your taste.  Spice it up with a hotter salsa, or keep it nice and mild for the kiddos!  Either way it always comes out delicious!
Don't forget the chips …….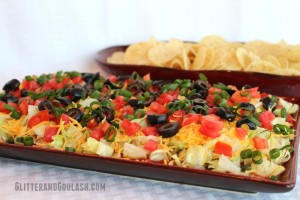 Quick Taco Dip:
8 oz. cream cheese
8 oz. sour cream
1 packet taco seasoning
Blend above ingredients and spread into a rimmed serving platter.  Top with salsa, finely shredded lettuce (dried thoroughly), shredded cheese, black olives, tomato, and finely sliced green onion.
Serve with your favorite brand of tortilla chips!
Lower Fat Option:  Use "1/3 less fat" cream cheese and  "light" or "fat free" sour cream to lighten the fat grams and calorie load.  I have made it this way and is very delicious as well.  Serve with Baked Tostito Scoops also!
Kitchen Tip:  I think the easiest way to slice green onions is with a kitchen shear.  I wash and dry the onions, then take my kitchen shears and cut them right over the dip or whatever recipe I am using them in…easy peasy!